The Tale
(2018)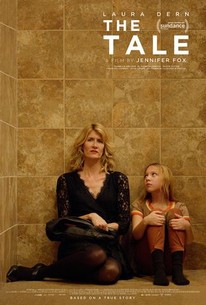 TOMATOMETER
AUDIENCE SCORE
Critic Consensus: The Tale handles its extraordinarily challenging subject matter with sensitivity, grace, and the power of some standout performances led by a remarkable Laura Dern.
Movie Info
Based on the filmmaker's own story, THE TALE is an investigation into one woman's memory as she's forced to re-examine her first sexual relationship and the stories we tell ourselves in order to survive.
News & Interviews for The Tale
Critic Reviews for The Tale
Audience Reviews for The Tale
½
A staggering, poignant, and powerful film about sexual abuse, memory, and the way people tell themselves stories of their past as opposed to how they remember them. Often times, our recollections form in order to favor the truth we desire to believe rather than the truth itself. While the subject matter and story of writer/director Jennifer Fox's cinematic memoir is as harrowing as anything in recent memory it is the way Fox is able to capture the coming into being of unconscious memories that is truly fascinating and eye-opening; it is a way to understand the psychology of these victims that has never been communicated or never been communicated as well as it is here up to this point. Fox has referred to this as an "unraveling of denial" as she was never unaware of these events and the fact they'd occurred in her life, but more that she'd never thought of them as being traumatic. It is this fine line that "The Tale" and Fox herself walks in being able to successfully convey the contrasting perspectives of her adult self (as played by Laura Dern) and her thirteen year-old self (Isabelle Nï¿ 1/2 (C)lisse). What is depicted is not easy to watch and Fox is unrestrained in revealing the grotesque truth of her circumstances, but it is in this truth that viewers are intended to contend with just how disturbing all of this is and how intensely it can truly warp the victim's mind.
Philip Price
Super Reviewer
Aldo Gandia
Super Reviewer
Kudos to the way the story is told by director Jennifer Fox, and for telling her very personal story in the first place. The level of denial, sublimation, and discovery decades later is honest and illuminating. The conversations Laura Dern has in her mind with people from the past (including her 13 year old self, Isabelle Nélisse) as she sifts through the fog and memories of her abuse, are brilliant. Dern's performance is decent but not outstanding, but Ellen Burstyn's is strong, as is that of Nélisse. There were a few moments in the story that seemed a little odd, but no one can deny its fundamental truth to far too many. I have to say though, it's very tough to watch in several places. I'm certain Fox's intention was to be completely honest, but to be this explicit, and in what can be misinterpreted as a sympathetic overtone, is unpleasant to sit through. The extent of the negative impact of predatory child rape isn't fully felt, though Dern's scene confronting her abuser late in the movie is powerful. I like how Fox signaled the cyclical nature of the crime ('what happened to you?'), and I loved the inclusion of her own childhood pictures at the end, which brings goosebumps. A heartbreaking, important film, but just brace yourself before watching it.
Antonius Block
Super Reviewer
The Tale Quotes
There are no approved quotes yet for this movie.