The Super Cops
(1974)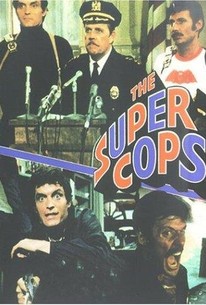 AUDIENCE SCORE
Critic Consensus: No consensus yet.
Movie Info
"Batman and Robin" are the principal characters in the fact-based The Super Cops. Well, not the real Batman and Robin; these just happen to be the nicknames of two irrepressible New York City cops, Dave Greenberg (Ron Leibman) and Bob Hantz (David Selby). Flying in the face of departmental procedure and protocol, Greenberg and Hantz use bizarre (and often amusing) extreme methods to rid the streets of drug merchants. The two gonzo cops find an unexpected ally in the form of a prostitute named Sara (Sheila E. Frazer). Adapted by Lorenzo Semple Jr. (who coincidentally wrote the Batman TV pilot episode) from the best-selling book by L. H. Whitemore, The Super Cops features the genuine Dave Greenberg and Bob Hantz in minor roles...as cops, naturally.
Critic Reviews for The Super Cops
All Critics (3) | Fresh (3) | Rotten (0)
Director Parks... managed this time to pump a great deal of energy and vitality into the proceedings, aided by cameraman Dick Kratina.
It's a one of a kind absolutely wacky cop film and one that may never be topped again.
Audience Reviews for The Super Cops
This is quite an excellent buddy cop movie that manages to not come off as overtly silly. It actually has a sort of bizarre feeling going on throughout, never quite nailing what kind of tone it wants to establish and carry through, but it's enjoyable enough to be overlooked. There aren't any fantastic performances, per se - everybody just seems to be having a good time, but when the odds are being stacked against the "Batman and Robin" pairing, you do want to root for the guys. It's interesting to note that this was written by Lorenzo Semple Jr., who wrote the Batman and Robin television series, and also features an appearance by Pat Hingle, who would go on to play Commissioner Gordon in the first four Batman films. The Warner Archive is due to be release a disc of this in the future, so keep an eye out for it if you get the chance.
Tim Salmons
Super Reviewer
The Super Cops Quotes
There are no approved quotes yet for this movie.