The Sugarland Express
(1974)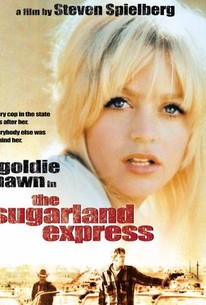 TOMATOMETER
AUDIENCE SCORE
Critic Consensus: Its plot may ape the countercultural road movies of its era, but Steven Spielberg's feature debut displays many of the crowd-pleasing elements he'd refine in subsequent films.
The Sugarland Express Photos
Movie Info
In a desperate attempt to keep her baby from being taken away by state authorities, a young wife helps her husband escape from jail. This drama follows the couple as they take a police officer hostage and set off across the country, pursued by the police the entire way.
News & Interviews for The Sugarland Express
Critic Reviews for The Sugarland Express
Audience Reviews for The Sugarland Express
½
While not his first film ever, this was the feature length theatrical debut of a nice guy named Steven Spielberg. Based on actual events, this film tells the story of an outlaw couple who take a highway patrolman hostage in an ill-conceived but desperate effort to keep their child from being taken away from them and adopted. It's not long before they are accompanied by a convoy of law enforcement and media, and stir up support from just about every averge citizen they cross paths with as they journey across Texas. This film very much fits into the zeitgeist of the time period, and it really reminded me of a movie that was released a year later...a little movie called Dog Day Afternoon. Whereas that film was a brilliant masterpiece, this one is really fun and entertaining, but almost too absurd to really take seriously, even though it is based on real life. Maybe there should have been a couple fewer scenes of cars scrashing or swerving, and a bit more time spent on developing the characters and their personalities better. The film is uneven and a little rough, but Im not sure who to really blame here. Spielberg had experience making films, so who knows? I will say though that it's cool seeing a pre-Ghostbuster William Atherton, and 70s era Goldie Hawn. They both give pretty good performances (especially Hawn), as do Ben Johnson and Michael Sacks. The music is quite nice, and the cinematography is pretty good too. Besides what I've already mentioned the film also is a tad unfocused and a bit dated, yet it has a very charming quality to it, and it's certainly not boring. It has some issues, but I like it enough to give it a mild recommendation, so you should give it a shot.
Chris Weber
Super Reviewer
"Every cop in the state was after her. Everybody else was behind her." Lou-Jean, a blonde woman, tells her husband, who is imprisoned, to escape. They plan to kidnap their own child, who was placed with foster parents. The escape is partly successful, they take a hostage, who is a policeman and are pursued through to Texas...
REVIEW
Although he began his rise with the now-classic 1971 made-for-TV thriller Duel, The Sugarland Express, released in early 1974, is Steven Spielberg's first actual big-screen foray. Loosely based on an actual incident that occurred in Texas in 1969, the film focuses on a fugitive couple (Goldie Hawn, William Atherton) who kidnap a Texas state trooper (Michael Sachs) at gunpoint and force him to drive them to Sugarland to get their infant son back from a foster home. What ensues, however, is a nearly 30 hour-long chase across southern Texas involving pretty much the entire Texas law enforcement community (and some right-wing gun nuts, too), including a very sympathetic veteran peace officer (Ben Johnson), who realizes that Hawn and Atherton are "nothin' but a couple of kids." Audiences were led to believe, based on the presence of former "Laugh-In" star Hawn, that The Sugarland Express would be a comedy. But the fact that there is gunfire and action within told them otherwise. There is humor, to be sure, much of it very Southern-fried; but Spielberg ratchets up the dramatic and tragic aspects of the story. For that reason, Sugarland was not much more than a minor box-office hit, more of a prelude to Jaws, which would come out the following year. But as an unconventional road drama and a story about love and crime taken to an extreme, The Sugarland Express is masterful. Hawn got most of the attention, and rightly so; but the really great performance here is from longtime John Ford/Sam Peckinpah veteran Johnson, who is superb as the Texas lawman sympathetic to their cause but sworn to uphold his oath to the state. A must-see early film from master cinemagician Steven Spielberg.
Lorenzo von Matterhorn
Super Reviewer
This movie should not have the word Express in it.
James Alvarez
Super Reviewer
The Sugarland Express Quotes
There are no approved quotes yet for this movie.