The Story of Temple Drake
(1933)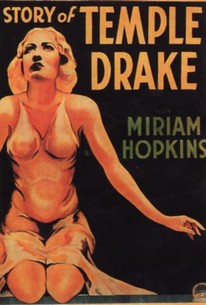 The Story of Temple Drake Photos
Movie Info
William Faulkner's novel Sanctuary was a notorious bestseller upon its publication in 1931, and while it was successful enough that Paramount Pictures quickly snapped up the film rights, they were forced to change enough of the story to make it fit for the screen (even in the "pre-code" era) that by the time it reached theaters the title had been changed to The Story of Temple Drake. Temple (Miriam Hopkins) is a free-spirited girl being raised by a well-respected judge (Guy Standing) after the death of her mother. Temple has a wild streak and a taste for liquor and men she can bend to her will, and while principled lawyer Stephen Benbow (William Gargan) wants to marry her, she's not willing to settle down. While joyriding with Toddy Gowan (William Collier Jr.), a young man with more bravado than sense who wrecks their car, Temple ends up in the decaying home of Lee Goodwin (Irving Pichel), who with leering, sharp suited gangster Trigger (Jack La Rue) makes and sells moonshine. While Lee's life Ruby (Florence Eldridge) and dim-witted helper Tommy (James Eagles) try to protect Temple, cold-hearted Trigger shoots Tommy, rapes Temple and takes her away to the city, where she falls into a relationship with the gangster governed by both attraction and fear. While the most sordid aspects of Sanctuary were excised by screenwriter Oliver H.P. Garrett and director Stephen Roberts, The Story of Temple Drake was still quite controversial on its initial release, and within a few months of its release, Will Hayes and Joseph Breen overhauled the Motion Picture Producers and Distributors of America's production code and strengthened enforcement of its guidelines on content, making it virtually impossible for a major studio to make a film like it again until the 1960s.
Critic Reviews for The Story of Temple Drake
Audience Reviews for The Story of Temple Drake
Provocative and racy this hard to find film is loaded with infamy. If you started watching not knowing it was a pre-code it would only take a few minutes to realized it. Full of a wantonness and sense of depravity that wouldn"t be seen in movies for decades after this sinfest features rape, murder and many other shocking events with a frank candor. Many of the cast are rather ham handed in their portrayals, William Gargan in particular, but Miriam Hopkins lights up the screen with a vibrant sensuality and a compelling presence. A truly talented actress it's a shame that behind the scenes she was such a difficult and brazen upstager that it irrevocably damaged her career and shortened her star period.
The Story of Temple Drake Quotes
There are no approved quotes yet for this movie.