The State Within
(2006)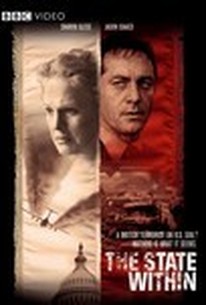 AUDIENCE SCORE
Critic Consensus: No consensus yet.
Movie Info
The British ambassador to America becomes locked into a tense political firestorm when an airplane explodes while flying over Washington, D.C. in this topical British television series that explores the possibility of a British terrorist operating on American soil. Terrorists have stricken the stateside skies once again, and as a result the British Embassy is set ablaze by a diplomatic firestorm. Now, as affinities are tangled and interests clash, British Ambassador Mark Brydon (Jason Isaacs) realizes that he is being manipulated by an invisible puppeteer whose sadistic power mongering has become a threat to international security. ~ Jason Buchanan, Rovi
News & Interviews for The State Within
Critic Reviews for The State Within
All Critics (3) | Fresh (3) | Rotten (0) | DVD (3)
The State Within is what we'd get if the producers of 24 wanted to make us think instead of accept ever-widening leaps of logic.
Complexities in early episodes can lead to bewilderment, but stick with it and you'll be rewarded with an expertly told conspiracy yarn about Anglo-American relations and the business of war.
Six hours may be a lot to invest at one time for a show, but once you start watching, you're really going to want to have all six hours at your immediate beck and call, as you'll find it hard to patiently wait for what comes next.
Audience Reviews for The State Within
½
"The State Within" starts with an airplane crashing outside of Washington, DC, strewing debris all over the Dulles Toll Road. Caught in its wake is British Ambassador Mark Brydon(Jason Isaacs) who futilely tries to rescue a trapped motorist before being dragged away by his intelligence officer Nicholas Brocklehurst(Ben Daniels). The crash is caused by a bomb apparently set off by a British national who has links to extremists from Tyrgyzstan.(When creating a fictional country, please try to come up with one that is easy to spell. Take Latveria, for instance.) As a result, the Virginia governor calls for the roundup of all British Muslims and Defense Secretary Lynne Warner(Sharon Gless) goes on the warpath. So, while Brydon has these various crises to deal with, there are rumors that he is about to promoted and is therefore advised to steer clear of James Sinclair(Alex Jennings), a Craig Murray-like former ambassador and his former best friend who is advocating for human rights in Tyrgyzstan which suffers under the thumbs of its dictator, President Usman who is closely allied with the United States in the war on terror. "The State Within" is a taut and intelligent, if flawed, political thriller and miniseries that starts awkwardly and ties up its loose ends maybe too neatly, especially a subplot about capital punishment, in a good ending and a better epilogue. With a hero who succeeds by the power of persuasion, not action, the miniseries makes a strong case for diplomacy in a world where no matter how much security there is and how many rights are surrendered, we can never be truly safe. Loyalties are constantly in flux and human lives are sadly never that important to national and business interests. Then again, war profiteering is nothing new, having been around since the first battle. It goes with the territory.
The State Within Quotes
There are no approved quotes yet for this movie.