The Starving Games
(2013)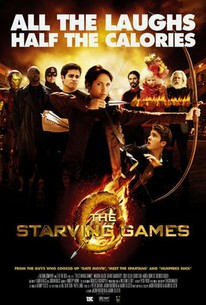 The Starving Games Photos
Movie Info
The Starving Games stars Maiara Walsh ("Switched at Birth") as Kantmiss Evershot, the eagle-eyed archer whose bravery and skills inspire the masses along with trending topics on Twitter (R); Cody Allen Christian ("Surrogates," "Pretty Little Liars,") as Peter Malarkey, the geeky young man who volunteers alongside Kantmiss; Brant Daugherty ("Dancing with the Stars," "Pretty Little Liars," "Days of Our Lives") as Dale, Kantmiss's beau who's left behind to watch - and simmer; Ross Wyngaarden ("Bonnie & Clyde: Justified") as Marco, a ruthless player handy with a blade; Dean West ("Monster Hunters") as Seleca, the game's controller and Diedrich Bader (Vampires Suck, Meet the Spartans) as President Snowballs, the malevolent, but ratings-conscious ruler. The comedy is directed by Jason Friedberg and Aaron Seltzer (Meet the Spartans, Vampires Suck) and is produced by Peter Safran (The Conjuring, Vampires Suck). (c) Ketchup
Critic Reviews for The Starving Games
Audience Reviews for The Starving Games
The fact that Paul Walker died & these idiots are still alive is further proof that God doesn't exist. The only starving there is are the STARVING kids in Africa, & these fucktards are still getting money to make these so-called 'movies'! And after the success of "Vampires Sucks" thanks to all the idiots who paid to go see it, Seltzer & Freidberg will still continue their brain damaging assaults of this garbage. And go ahead, try & throw in the "You're taking a movie that only tries to get cheap laughs too seriously" or "Grow up & get a freakin' sense of humor!!!!1111!!" or "You're only hating this because it's making fun of that abomination Hunger Games movie!!!111" cards at me; it will only tell me that the people who are actually trying to defend these guys & their atrocious films are nothing but absolute retards. I HAVE a sense of humor, whereas anyone who defends these films with ANY excuse has about as much a sense a humor as Justin Bieber has brains. These aren't comedy, let alone films. Comedy requires satire, wit, HUMOR, sense, & good writing; none of which these fucktards' films has. Their films will only impress attention-deprived retards with no taste (like my sibling). It's all the same recycled shit from their other films, & if one continues to try to defend them then it's obvious they have no say on the subject of comedy, much less a say at all. "Ohhh, look it's *Insert name of character from one movie*!" Said character later gets a cow dropped on him. "Hi I'm *Name* from *Movie*!!! HAHAHAHAH!!!" Later gets hit or killed by a cheap weapon. If that's someone idea of funny then the world should just start killing themselves. What's worse is that these two fuck buddies are STILL going to shit out TWO MORE "films". A Fast & Furious one (like that was unexpected), & the still upcoming "spoof" of James Cameron's Avatar "The Greatest Movie of All Time in 3D".
Frisby 2007
Super Reviewer
I feel like lambasting the duo of Friedberg and Seltzer has gotten to the point of beating a dead horse. I've been railing against their misbegotten sense of comedy (really just pointless and soon-to-be-dated pop-culture references) for years, declaring three of their terrible spoof movies as my worst film of that year. There is no love lost between me and these two men, and yet I feel the sense to restrain my ire when it comes to their latest, The Starving Games. It's another witless comedy caper, this time using the popular Hunger Games series as its skeleton to hang its desperate jokes upon. These guys don't know what parody is, don't know the particulars of comedy and how to build and payoff a joke. It's the same pattern of ineptitude that will never change. Yet while sitting through all 80 laborious minutes of Starving Games, I felt like Friedberg and Seltzer have come to the realization that the end is nigh for their spoof careers. This last movie didn't get a theatrical release and the production values look chintzy even for them. They used to crank these lousy films out one a year; hell, in 2008 they gave us two. Now they've released two in the last five years. Usually they'll pack a celebrity or, barring that, MadTV alums. Even those are absent. That's right, even this movie couldn't snag a MadTV alum or D-list celeb. Perhaps, as I'd long prayed, the public has grown sour on Friedberg and Seltzer's misunderstanding of comedy and matured enough to realize that pointless references are not the same as parody. In all fairness, I did laugh two times in The Starving Games, both related to Diedrich Bader as President Snowballs. The lead actress, Maiara Walsh, displays a lot of potential. She's a good comic actress, has a tremendous smile, a memorable face, and sturdy poise to slough through this mess. She deserves a better movie and more opportunities. At this point, you know what you're getting with Friedberg and Seltzer, and that's all you're going to get. However, I just looked online and discovered they have two movies scheduled for release next year, one a Fast and Furious parody (goody), and the other an honest to God spoof-free straight comedy. I'll be fascinated to see what these two have to offer when it comes to non-spoof comedy, but their background fills me with equal parts dread and derisive excitement. Hey, it can't be worse than InAPPropriate Comedy, could it? Nate's Grade: D
Nate Zoebl
Super Reviewer
[img]http://images.rottentomatoes.com/images/user/icons/icon13.gif[/img]
Directors Cat
Super Reviewer
The Starving Games Quotes
There are no approved quotes yet for this movie.