The Sentinel
(1977)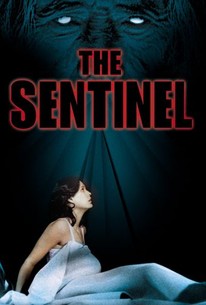 Movie Info
In the wake of such Satanic-themed thrillers as Rosemary's Baby, The Exorcist and The Omen comes The Sentinel. When New York fashion model (Cristina Raines) splits with her fiance (Chris Sarandon) and moves into an old brownstone, she soon discovers she has more than she bargained for in the lease. As luck would have it, a mysterious blind priest (John Carradine) who lives upstairs happens to be guarding the doorway to Hell, and she has been chosen as his replacement. Incidentally, when the door is finally opened, out spills an assortment of deformed humans whom director Michael Winner hand-picked from hospital wards and circus sideshows.
Critic Reviews for The Sentinel
Audience Reviews for The Sentinel
½
Around this time in the seventies there was a resurgence of films with demonic presences, amongst which were "Rosemary's Baby", "The Omen", and "The Exorcist". It was popular to give children the power of demonic powers, as they are vulnerable beings without much threat towards stronger adults. "The Sentinel" capitalized on the trend of giving demonic presence, but instead placed it within your home, where you supposedly feel safe. Instead of being a ubiquitous haunted house tale, the apartment in which model Alison is residing is the gateway into Hell, and though she believes she is surrounded by oddball, perverted, frankly creepy neighbors, she is all alone in the building except for a blind priest who lives upstairs. The film itself is not very horrific, doesn't try to be ultimately gory, and often tries to build up tension or show the depths of characters that aren't that interesting to begin with. Alison, our main protagonist, is living on her own since failing to commit suicide several times from being depressed as a teenager and from witnessing a gluttonous orgy brought about by her elderly father (it wasn't a pretty scene, and was probably the strangest part of a film that gets stranger as it goes). For over half of the film the model hears weird sounds, has problems concentrating and fainting, and seems stressed over her new home, but there is rarely a moment of true horror until the very end. Some seriously big names from the Golden Age of Hollywood show up in this including Ava Gardner, Burgess Meredith, Jose Ferrer, and Arthur Kennedy, in minor roles, some as demonic neighbors. The lead actress isn't horrible, but she seems out of her element on more than one occasion, looking bedroom eyed and confused. It has a really great concept, and the ending is creepy, but the film doesn't take its time to establish the concept or enlighten the audience, but instead traipses around making ghostly noises.
Spencer S.
Super Reviewer
½
A rather odd big budget studio horror film made to cash-in the late 60s-70s satanic craze that produced a few masterpieces of the genre. Michael Winner's lack of subtlety condemns the film to look as a poor and shoddy attempt, despite an all star cast and an eerie premise.
Pierluigi Puccini
Super Reviewer
I'm still not 100% sure how I feel about The Sentinel. I don't know if its the chest cold that's kicking my ass or the movie, but I feel like I never got my bearings, like I never got settled in as far as the movie was concerned. (I'm sure this is part of its effectiveness, but still...) The all over the board cast was definitely neat but once they started dropping in throughout the movie it started getting distracted. A lot of the imagery was randomly jarring (from the creepy cake threesome and Beverly D'Angelo rigorously masturbating to the last ten minutes) and I'm glad I saw The Sentinel but its definitely one of those movies you really don't need to see again. Catch it if you can but don't lose any sleep if you don't.
Michael Gildea
Super Reviewer
The Sentinel Quotes
There are no approved quotes yet for this movie.