The Secret of Kells
(2010)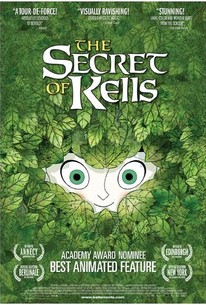 TOMATOMETER
AUDIENCE SCORE
Critic Consensus: Beautifully drawn and refreshingly calm, The Secret of Kells hearkens back to animation's golden age with an enchanting tale inspired by Irish mythology.
The Secret of Kells Videos
The Secret of Kells Photos
Movie Info
Young Brendan lives in the Abbey of Kells, a remote medieval outpost under siege from raiding barbarians. One day a celebrated master illuminator arrives from foreign lands carrying an ancient but unfinished book, brimming with secret wisdom and powers. To help complete the magical book, Brendan has to overcome his deepest fears on a dangerous quest that takes him into the enchanted forest, where mythical creatures hide. It is here that he meets the fairy Aisling, a mysterious young wolf-girl, who helps him along the way. But with the barbarians closing in, will Brendan's determination and artistic vision illuminate the darkness and show that enlightenment is the best fortification against evil?
News & Interviews for The Secret of Kells
Critic Reviews for The Secret of Kells
Audience Reviews for The Secret of Kells
Laden with the magic of childhood like donuts are covered in powdered sugar this simple tale about the creation of a book is less about story and impact than about mood, memory and remembrance, not about how things are so much as how they seem and a patina of wonder settles over you, the blanket over your head as a child and wondering what all those sounds are out there. The story is a slight and wistful thing, a snowflake melting on your palm, but one that chose to fly to you.
Kevin M. Williams
Super Reviewer
½
A rare modern animation with a sense of soul, not directed by the appeal of focus groups. After the opening scene, a young member of my family was already uncomfortable. Our young protagonist has to face fears of the unknown and the film's directors mean to make us an active participant, daring us to keep going along with him. This fear is induced with inventive, minimalist animation and is fed to us in bits throughout the movie, breaking with beautiful, playful, and joyful art and music that left me in awe.
Matthew Slaven
Super Reviewer
½
The biggest surprise of the past year's Academy Awards wasn't the triumph of Kathryn Bigelow or the ominous inclusion of "The Blind Side" to the Best Picture lineup, but rather the nomination of a little Irish film known as "The Secret of Kells," with barely any screenings to its name. The question at the tip of everybody's tongue became: what was the Academy thinking? Yet once "Kells" emerged quietly onto the moviehouse scene, people began to understand. In a year where 3-D glasses and grand IMAX screenings dominated the box office, one can't help but feel that the Academy members that voted for it were onto something, a form of silent rebellion against all things big and explosive.

It's rare that the visual components of a film can so completely saturate its entire being. Indeed, the Irish fairytale story seems to exist wholly for the sumptuous drawings depicting it. A flighty little nymph sprite, with her white hair blowing spiritedly in the wind, guides ribbons of smoke along the geometric curlicues of the screen. Armed with nothing but a pencil, Brendan battles the fearsome Krom Kruit as he catapults himself within a milky plasmatic nebula. And then there are the montages, some whimsical, like filigreed clockwork, some impressionistic, like a smudgy Renoir painting, and some brilliantly naturalistic, featuring jeweled leaves with verdure smeared all over its surface.

Yet although "Kells" features scenes heavily laden with Irish mysticism and subversively pagan rituals, the film could essentially double as a social allegory for modern film industry. Brother Aidan says dishearteningly to Cellach: "You've forgotten how important it is. All you want for us is this wall!" Just replace "it" with "hand-drawing" and "wall" with "hyper-explosive 3-D graphics," and you've got yourself the perfect antidote to James Cameron and his devoted followers.

With a run time of little more than an hour, "Kells" is a refreshingly different take on classic animation, lovingly and defiantly flattened into two dimensions, inspiringly simple - and more than a little trippy. By paying homage to an ancient time where beauty and patience inevitably won out over brute force, the film blends a straightforward morality with sophisticated hand-drawings to stunning visual effect. Truly, it practices what it preaches.
Jennifer Xu
Super Reviewer
The Secret of Kells Quotes
There are no approved quotes yet for this movie.