The Second Best Exotic Marigold Hotel
(2015)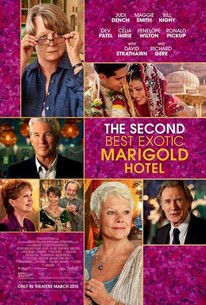 TOMATOMETER
AUDIENCE SCORE
Critic Consensus: The Second Best Exotic Marigold Hotel is about as original as its title -- but with a cast this talented and effortlessly charming, that hardly matters.
The Second Best Exotic Marigold Hotel Videos
The Second Best Exotic Marigold Hotel Photos
Movie Info
Now that The Best Exotic Marigold Hotel is full up with its long-term residents, co-managers Muriel Donnelly (Maggie Smith) and Sonny Kapoor (Dev Patel) have a dream of expansion, and they've found just the place: The Second Best Exotic Marigold Hotel. With plans underway, Evelyn and Douglas (Judi Dench and Bill Nighy) venture into the Jaipur workforce, wondering where their regular breakfast dates will lead. Meanwhile, Norman and Carol (Ronald Pickup and Diana Hardcastle) navigate the swirling waters of an exclusive relationship, as Madge (Celia Imrie) juggles two very eligible suitors, and recent arrival Guy Chambers (Richard Gere) finds a muse in Sonny's mother, Mrs. Kapoor (Lillete Dubey) for his next novel. As his marriage to Sunaina (Tina Desai), the love of his life, quickly approaches, Sonny finds his plans for the new hotel making more claims on his time than he has available. Perhaps the only one who may know the answers is Muriel, the keeper of everyone's secrets. As the big day nears, family and guests alike find themselves swept up in the irresistible intoxication of an Indian wedding.​ -- (C) Fox Searchlight
News & Interviews for The Second Best Exotic Marigold Hotel
Critic Reviews for The Second Best Exotic Marigold Hotel
Audience Reviews for The Second Best Exotic Marigold Hotel
Sonny attempts to buy another hotel while his guests have their own interpersonal dramas. If the first film was all charming plot and aphorisms, the second one is all aphorisms with a hackneyed plot. As a result, the aphorisms seem much less deserved: this film is not good enough to preach. Douglas and Evelyn's stalled courtship has no plot events, Sonny's rivalry is underdeveloped, a problem easily solved but stretched out because it must fill the film's running time, Norman's plot is ridiculous and the climax is too easy, and the mystery evaluator is so predictable that I'm rather insulted this film felt the need to include that story-line. The performances are all wonderful, which is no wonder considering the talent involved, but obviously, that's not enough. Overall, The Second Best Exotic Marigold Hotel is a distant second to anything else you could spend two hours doing.
Jim Hunter
Super Reviewer
½
This movie is about as original as its title. If you don't keep up with my reviews, and with Flixster's new layout it's even more difficult, then I must inform you that I loved the first film. It's not what I would call an amazing film, or anything of the sort, but it was just a blast to watch and it was pretty much impeccably cast. I just thought was a great movie, I realize it may not have actually been a great film in the conventional sense, but I thought it really clicked. So, while I wasn't expecting this to be as good as the first movie, and it ended up not being, I was excited to watch this. And I had a real good time watching this, unsurprisingly. It's, largely, got the same cast and the same type of energy that made the first film so fun to watch. Much like every sequel, the sense of familiarity is what pulls you back in immediately. I don't want to say that this film is lazy or anything, but it looks like an easy film to have made. Not that I'm saying it was easy to make, considering the fact that making quality films is a difficult art form, it's just the fact that everything pretty much looks effortless. While there's the overarching narrative of Sonny trying to expand his hotel and make it into a franchise, every character in the film has their own little stories, so it's like a collection of short films that sort of end up converging in the same hotel for the wedding between Sonny and Sunaina. Interesting how the focus is shifted from Judi Dench's character for a heavier focus on Maggie Smith's character. Evelyn, Judi's character, is still prominently featured, but her stuff feels like more in the background as compared to Muriel, Maggie's character, and her relationship with Sonny. In many ways, Muriel's and Sonny's relationship is the emotional core of the film, since Sonny goes to her for absolutely everything and it's even stronger than Sonny's relationship with his own mother, at least in this movie. So I thought that was good and, of course, with a veteran actress like Maggie Smith, you know that you're gonna get the absolute best from her. Though, to be fair, you'll get the absolute best from everyone in this cast. Judi Dench, Bill Nighy, Richard Gere, Dev Patel, Celia Imrie, Ronald Pickup, etc. They all give it their best and the film is definitely the better for it. Perhaps the narrative itself isn't something that's out of this world, but the cast more than makes up for any deficiencies in the scripting of the film. Not to mention the beautiful setting, so it's an easy movie to like, even if it's not as good as the first film. I would definitely recommend it if you're a fan of the first film. If you're a newcomer then I'd suggest watching the first movie first. Not because you actually need it, though it does help somewhat, but only cause it's a better movie. With that said, I still really enjoyed this film. I may be over-rating the film, but I thought this was really good. Not perfect or great, but still a lot of fun to watch.
Jesse Ortega
Super Reviewer
½
The romantic escapades of the inhabitants of the Marigold Hotel is the subject of this soap opera masquerading as sophisticated entertainment. This is Love, American Style for the geriatric set. Although I hope I didn't insult the early 1970s ABC TV anthology series. Seriously though. What are they feeding these folks? Even with all the amorous adventures, the production is absolute drudgery for a moviegoer to endure. Not much of consequence happens. Even the title refers to a subplot that doesn't really figure into the story until the very end. A sensible and evolving drama is clearly not a priority of the script. The narrative advances with the urgency of a three-toed sloth. Not to boast, but I'm rather proud I was able to stay awake during the snoozy happenings. Naturally everything culminates in a Bollywood style musical number at an Indian wedding. Its presence only to adhere to some checklist of clichés. By then I had already checked out of The Second Best Exotic Marigold Hotel. My advice? Don't even bother checking in. fastfilmreviews.com
Mark Hobin
Super Reviewer
The Second Best Exotic Marigold Hotel Quotes
There are no approved quotes yet for this movie.