The Ruins
(2008)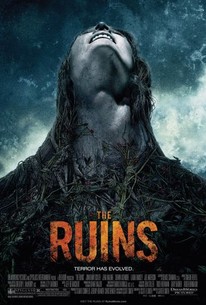 TOMATOMETER
AUDIENCE SCORE
Critic Consensus: Despite a solid cast and truly frightening source material, The Ruins founders, thanks to a weak script and an excess of gore.
Movie Info
"The Ruins" follows a group of friends who become entangled in a brutal struggle for survival after visiting a remote archaeological dig in the Mexican jungle - where they discover something deadly living among the ruins.
News & Interviews for The Ruins
Critic Reviews for The Ruins
Audience Reviews for The Ruins
This decent and tense horror movie is well paced and relies on a good cast to turn a rather silly premise into something surprisingly terrifying. It is only a shame, though, that it ends with such an unsatisfying conclusion (I prefer the alternative ending).
Carlos Magalhães
Super Reviewer
Mainstream horror film that dares to get nasty a couple of times, when a few American tourists decide to visit mysterious Mexican ruins in the jungle. The secret behind the eerie events is maybe revealed a tad too soon, and turns out to be a little silly, too, but there is a pretty decent sense of suspension throughout the entire film, as the situation gets more and more dire for the protagonists. Especially the somewhat unusual setting works in favor of the film's atmosphere and the characters are believable enough and not the generic idiots that add one bad decision after another. It also helps that the ending is neither preachy nor falls back on the last second scare. Pretty decent.
½
[img]http://images.rottentomatoes.com/images/user/icons/icon14.gif[/img] While a cheesy poster and an unimaginative title might lead you to believe that The Ruins is probably nothing more than a very generic nature horror flick the payoff is actually an increasingly suspenseful, and blood soaked squirmer. When I look at a lot of the horror films of recent years which take groups of beautiful teenagers into dangerous environments I see no signs of real quality. But watching this little film my faith in creature features was instantly resurrected. The acting is noticeably strong, although it's not explored further with character development it's easy to forgive because of the sheer skill at hand and how effectively filmed and brutally straight-faced it manages to unfold without at any point becoming laughable. As a regular viewer of horror, I found that to be the triumph. It is a very under rated film. It's nothing that remarkable but was born out of an original idea and is made pretty well on it's low budget. As an adaptation to the Scott Smith novel of the same name, I can't judge it. As a genre piece however, I don't think it is getting the full credit that it truly deserves. With a solid cast, a genuinely intriguing premise and a sick and bloody sense of mind it will indisputably work for the crowd it's going for. And I for one am part of it. While it does unfold with some of the typical slasher cliches, it got so much underneath my skin I simply didn't care. It's essentially a horror film that has ancient killer plants for it's antagonist in the same way as The Day Of The Triffids, it frightened me and didn't leave me rolling on the floor laughing, that just demonstrates how well made it is. It doesn't do anything new but as perfectly well constructed disgusting horror it really gets the job done, especially in a world where the great value of horror in cinema has become rare.
Directors Cat
Super Reviewer
The Ruins Quotes
There are no approved quotes yet for this movie.