The Ritual
(2017)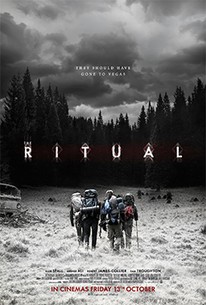 TOMATOMETER
AUDIENCE SCORE
Critic Consensus: Director David Bruckner makes evocative use of the Scandinavian setting and a dedicated cast to deliver a handsome -- if familiar -- horror story.
Movie Info
Following the sudden, violent death of their best mate, four young men reunite for a hike through the Scandinavian wilderness. Deep in the black, Nordic forest they find themselves lost in a hell of sinister nightmares and pagan sacrifices. For these ancient woods are home to a malevolent deity which will force them to face the darkness inside themselves.
News & Interviews for The Ritual
Critic Reviews for The Ritual
Audience Reviews for The Ritual
½
Bruckner is a filmmaker to watch, this is one relentless horror film that never lets you breathe. The script is very strong and the actors are cast perfectly. One of the biggest issues I had though, the cliché of the actor being injured and the annoying part where characters ignore the obvious truth of their situation. The atmosphere is unsettling and with each beat, you are taken deeper into the woods and you never have that safe feeling. I was going to miss this but the trailer convinced to watch and I must say it was definitely worth checking out, one of the better Netflix titles of 2018. 17-03-2018.
Brendan Nicholls
Super Reviewer
I think first things first should be the mention that this movie, even though it is based upon a book, reminds me so much of a movie I watched prior to both hurricanes. That movie was called Bachelor Games. It wasn't a very good movie, but the concept was very similar to this one. Though, in Bachelor Games, the hiking trip was more as a bachelor party, duh. What a fucking boring bachelor party, am I right? I mean, a fucking hiking trip. I guess if you're all into that, then it's perfectly fine. Anyway, the hiking trip in this movie is done as a tribute to one of their own, who was killed during a convenience store robbery where Luke was present. Luke just froze, even though he had picked up a bottle of liquor and he, clearly, wanted to do something to help his friend. He couldn't, however, and his friend ended up being murdered. It's difficult situation, to be sure, but one where you can't really judge Luke's lack of inaction as a result of the fact that none of us can judge unless we've been put in that same situation. And, even if you have, it's no one's place to judge, it's a difficult situation and people react differently to stuff like that. But I digress, the similarities between the two movies are obvious. While on the hiking trip, both groups of guys end up being hunted down by this...being/creature attached to the folklore of their particular country of origin. But whereas Bachelor Games lacked any real tension or proper atmosphere to add strength to what was going on, this movie more than makes up for it in spades. One of the things you notice right away is, really, how beautiful the setting is. But, in spite of that beauty, there is a sense of mystery given the forest that these guys find themselves in. There's something sort of endless about them, where all you see for miles upon miles upon miles are just trees in every direction. And, to be fair, you can say this for a bunch of forests in the world. In fact many forests, or at least huge chunks of some forests, have never, ever been explored by man for they are so dense. That's what some conspiracy theorists use for their continued hope in the existence of Bigfoot. And there's something to what they say. There's so much out there that has been unseen by man, that who knows what kind of animals have yet to be discovered there. The mysteries the ocean holds are even more predominant, considering that we've only explored 5% of it. That's neither here nor there, since we're talking about The Ritual here, goddamnit! But, honestly, I quite liked this movie. I don't think it really does anything to reinvent the wheel in terms of horror, but it does provide an interesting enough story about pagan rituals and the nature of guilt. Given what happened to their friend, Luke feels guilty over his lack of action during the robbery. And he feels that his friends blame him over this as well. But, again, it's not the sort of thing where you can sit and judge a person over what they should have done if you weren't in that situation at that very moment. So this already starts off the movie with a tense vibe between the guys as they hike this trail. And the movie relies on that tense atmosphere to carry throughout its earlier stages. The movie certainly benefits from a very strong cast. That's not to say there's much depth to the cast outside of Luke who, again, spends his time dealing with the guilt of his actions...or lack thereof. Hutch is the self-appointed 'leader' of the trip. Dom is the 'wife and kids' man, if there is such a thing. In fact, it's Dom's meniscus injury that forces the group to take a shortcut through the forest, so we have him to blame for everything. They walk through the forest for a while before it starts to rain. Luke hears something strange in the woods, but none of the other guys hear it as they head into this abandoned cabin. Part of me, at first, thought it was gonna be one of those movies where only Luke sees or hears the phenomena that is taking place, given his state of mind as a result of what happened, but it didn't head that way. I think it would have been a little too obvious if no one but look heard or saw anything. Not to say that there's a twist here, because there really isn't, but I don't think they wanted you to truly be aware of the danger at hand until much later in the film. And, if it's all in Luke's mind then, to me, that doesn't make for as interesting of a story either. Anyway, while in this cabin, they go up to the cabin where they find this wooden effigy that's shaped like human, except it doesn't have a head and has antlers for hands. Strange, right? Well, this is when the 'crazy' shit really starts to happen. Luke wakes up outside in the forest, just standing, after having a vivid nightmare where he relives the events of the beginning. When he returns to the cabin, he finds that his buddies are also having nightmares and Phil has been praying, naked, in front of the effigy. Things move on from there and I did like the way how the...creature, whatever you want to call it, was teased. They only show you bits and pieces of him. Never a full-on glimpse. He's either hiding behind a tree or once the camera comes into focus he turns and leaves. But it's not like the movie is devoid of horror either, because I think they capture an essence that, even if you don't always see or hear the monster, the guys are always in danger regardless. The forest is where this thing dwells and they are also very lost, not knowing where to go, so they're always in danger at all times. It's effective, again, because you don't always have to rely on the monster's presence to get your point across. You can do something as simple as using the crackling of a branch. Naturally, Luke's friends start dying off and he, in spite of having some difficulties with them, does try his best to make up for the fact that he failed one of their friends already and that resulted in his death, so he's not gonna let it happen again to his living buddies. Naturally, it doesn't work out as well as you'd expect, but it gives us a reason for Luke's actions. Don't wanna say this is the best horror movie in existence, because it's obviously not and much less coming the week after I saw Get Out. But it is a good one and it's very effective at what it does. The reveal of the monster is very well done and the monster itself is surprisingly creepy-looking. I can't really say much about the design, because I wouldn't even know how to begin to describe it, but it is a great monster. Like I mentioned, the acting is strong, the cinematography is great, it's got a good script and the horror delivers. So why don't I feel comfortable giving this 3.5 stars? I honestly don't know, I think part of it has to do with what I felt was a very anticlimactic ending. I mean, I realize they couldn't just have Luke straight up kill the monster without some sort of Herculean effort that he didn't have, but I still felt the ending was a little anticlimactic and therefore unsatisfying. Secondly, the whole straightforward nature of the proceedings kind of put it back to me. Not that there's anything wrong with that, but, in part, my favorite horror movies are those that play with audience expectation and how you change that perception with your narrative or scares or whatever. This movie isn't concerned with doing any of that. I realize I'm probably not being fair to this movie, but it's the fact. I think it just plays it out too straight to really make a dent in the vast, vast world of independent horror films. Another good pickup for Netflix, to be sure, but there's just something missing here that would have pushed this over the edge. I'd still recommend it, it's a good horror movie for horror fans.
Jesse Ortega
Super Reviewer
½
I'm sorry, but who the fuck, with no promotional material, and with a name as generic as The fuckin' Ritual, told this movie, it was allowed to be so good?
The Ritual Quotes
There are no approved quotes yet for this movie.