The Rite
(2011)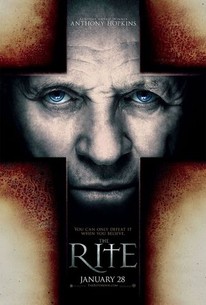 TOMATOMETER
AUDIENCE SCORE
Critic Consensus: Anthony Hopkins is as excellent as ever, but he's no match for The Rite's dawdling pace and lack of chills -- or Colin O'Donoghue's tentative performance in the leading role.
Movie Info
"The battle against the Devil, which is the principal task of Saint Michael the Archangel, is still being fought today, because the Devil is still alive and active in the world." -Pope John Paul II "The Rite" is a supernatural thriller that uncovers the Devil's reach to even one of the holiest places on Earth. Inspired by true events, the film follows seminary student Michael Kovak (Colin O'Donoghue), who is sent to study exorcism at the Vatican in spite of his own doubts about the controversial practice and even his own faith. Wearing his deep skepticism like armor, Michael challenges his superiors to look to psychiatry, rather than demons, in treating the possessed. Only when he's sent to apprentice with the unorthodox Father Lucas (Anthony Hopkins)--a legendary priest who has performed thousands of exorcisms--does Michael's armor begin to fall. As he is drawn into a troubling case that seems to transcend even Father Lucas's skill, he begins to glimpse a phenomenon science can't explain or control...and an evil so violent and terrifying that it forces him to question everything he believes. Directed by Mikael Håfström ("1408"), "The Rite" stars Oscar (R) winner Anthony Hopkins ("Silence of the Lambs"), Colin O'Donoghue in his feature film debut, Alice Braga ("Predators"), Toby Jones ("Frost/Nixon"), with Ciarán Hinds ("Harry Potter and the Deathly Hallows - Part 2"), and Rutger Hauer ("Batman Begins," "Blade Runner"). Beau Flynn and Tripp Vinson ("The Exorcism of Emily Rose") produced the film under their Contrafilm banner. The screenplay is by Michael Petroni ("The Chronicles of Narnia: The Voyage of the Dawn Treader"), suggested by the book by Matt Baglio. Richard Brener, Merideth Finn and Robert Bernacchi serve as executive producers, with Mark Tuohy co-producing. New Line Cinema presents, a Contrafilm production, a Mikael Håfström film, "The Rite." The film will be distributed by Warner Bros. Pictures, a Warner Bros. Entertainment Company. This film has been rated PG-13 for disturbing thematic material, violence, frightening images and language including sexual references. -- (C) Warner Bros.
News & Interviews for The Rite
Critic Reviews for The Rite
Audience Reviews for The Rite
This average horror movie begins quite promising, avoiding cheap exploitation and holding our attention with a scary premise, but later on it sadly sinks into commonplace in a generic third act that is so typical of exorcism stories, making the whole effort of its first half seem in vain.
Carlos Magalhães
Super Reviewer
Once again Anthony Hopkins plays that cranked out dude this time as a priest. Based on true facts. excellent movie 5 stars
Bruce Bruce
Super Reviewer
People, and Americans in particular, seem to have this odd fascination with the Old Testament of the Bible, and in particular Demons and their eviction; i.e., exorcism. I'm as guilty as the next guy; having a good college background in theological matters I enjoy the philosophical arguments over the nature of good and evil. Having read Wm. Blatty's riveting novel long before Linda Blair started spewing pea soup, this psychological brand of horror has always held an interest for me, especially when done right - eschewing shock value for a more cerebral delving into the nature of evil. This is why the first Exorcist film has stood the test of time, while the sequels, going for shock and awe, were so easily forgettable. In the case of The Rite, you begin with an earnest enough back-story - Michael, the son of a mortuary owner (Colin O'Donoghue) wants to escape the family business, discovers that he can get a free pass to higher learning if he goes to a Catholic College - under the pretext of wanting to become a priest. Of course Michael is an unbeliever, so after acing all his classes he gives notice that he will not be pursuing a life in the clergy. A series of incidents then follow, and Michael is coerced into traveling to Rome as the Vatican is secretly hunting for more exorcists. Not very believable, but, while things are a bit too pat and slickly presented, I suppose that since the very nature of the film's theme is indeed questionable, you could give this setup a pass. The head of the Exorcism classes is a friend of Michael's college dean, so he takes a special interest in the lad, sending him to Brother Lucas, in yet another odd role for Anthony Hopkins. I'm going to break from the story here into a little side trip concerning Sir Hopkins. I've been a fan ever since he first hit the screen, as the eldest son Henry in The Lion In Winter. Through many a film including the near perfect Howard's End, he seemed to embody his craft, sinking into a role completely. And then came Hannibal Lector, who some say is the greatest villain portrayal on film. Indeed, Hopkins was the perfect choice to portray Harris's villain - cerebral and yet with a slightly out of whack sensibility that could be construed as the embodiment of evil. It was the perfect role for a true thespian, giving Hopkins the opportunity to grandstand without seeming to do so. Unfortunately, he's been doing riffs on the same role ever since, and The Rite is no exception. His Brother Lucas is quirky to a fault - serious one moment and then throwing off bon-mots the next. I assume that Hopkins has made the choice to play "quirky", and to be certain he does it well, but here it does the film a bit of a disservice, as you're swayed into watching a character study, when the film should be more about Michael and his doubts and, perhaps, faith. I will say that the film is beautifully filmed and there is enough of a philosophical question at the heart of the film to hold your interest, though the questions are nailed home (and if you've seen the film, excuse the pun), instead of played out through a more concise story - it's almost as if, in the attempt at realism, where everything must have an explanation, the film loses credibility - I suppose some things one must take on faith - as the film points out when Michael views Hopkins performing an exorcism on a pregnant girl and exclaims "is that all there is?" To which Hopkins replies "what, you were expecting spinning heads and pea soup?" Ah no, but this is a perfect example of a serious film that makes too many a wrong step (Hopkins included), and ends up playing false for all its attempts at realism. I will also point out that there is a huge, gapping continuity error when Michael enters Rome. There's a nice travel log segment, with Michael in a cab seeing the sights as he careens towards the Vatican. Unfortunately, they get things out of order, going from the Coliseum to Castle St. Angelo (which is right next to the Vatican), and then somehow a scene of the baths of Calicalla gets shoehorned in, even though the baths are back on the other side of the Coliseum. I hate it when there's sloppy editing like that! Then, to make matters worse, there's the requisite shot of the front of St. Peter's, making it appear that Michael is going to enter the Vatican through the church's front door - ah no, a visiting priest would enter around the corner, by the residences (even if you ARE named after the arch-angel). Just before the credits role you get a totally bogus, reality TV narrative - one of those "and this is what they're doing now" type things - which is absurd in a work of fiction and shows that this film played it just too slick - surely not an Emily Rose or The Exorcist. That this film is "based" on actual events (which is a polite way of saying "hey, we made up 99% of this stuff, but somewhere, even we don't know where, there just might be a scene that actually happened"), just makes the whole mess seem even more absurd.
paul sandberg
Super Reviewer
The Rite Quotes
There are no approved quotes yet for this movie.