The Rescuers
(1977)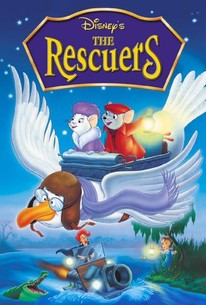 Movie Info
Two fantasy novels by Margery Sharp were combined for in the Disney animated feature The Rescuers. The title characters are a pair of mice, Bernard and Miss Bianca. A little girl named Penny has been kidnapped by Miss Medusa. When the human law enforcement officials fail to locate the child, Bernard and Miss Bianca take over with the help of several colorful animal companions. In classic Disney tradition, the comedy element is offset by moments of genuine terror. Voices are provided by Bob Newhart (Bernard), Eva Gabor (Miss Bianca), Geraldine Page (Madame Medusa), Jim "Fibber McGee" Jordan, John McIntire, George "Goober" Lindsay, Joe Flynn (who died in 1974, not long into the four-year production), and a host of others. It scored at the box office, more than compensating for the $8 million investment and the half-decade of work it took to complete the film. In fact, The Rescuers remains one of the most popular of the Disney cartoon films produced after the death of Uncle Walt. A heavily-computerized sequel, The Rescuers Down Under, appeared in 1990. ~ Hal Erickson, Rovi
Critic Reviews for The Rescuers
Audience Reviews for The Rescuers
While not one of Disney's best animated classics, "The Rescuers" offers a very fun-filled adventure between twice unlikely mice who are on a mission to rescue a little girl. With one-note villains, the movie could have easily been stale, but they were enjoyably over the top. With a nice message for kids, a very fun adventure for all ages, and a story that will brighten up anyones day, this is definitely a film to watch. If I had to fault the film, it would be for the sole purpose that the film is not even 80-minutes long, but it actually feels it's length. Following these characters felt a little dragged on to me, but that is just my opinion. In the end, I had a blast watching this film, and I highly recommend it to kids looking to watch something fun and clever. "The Rescuers" is great family fun.
The 1970s were arguably one of the weakest decades for Disney in terms of quality, and this is another failure from the studio made in that time, with awful music, bad voicing and an irritating, painfully derivative plot that doesn't amount to anything really worth seeing.
Carlos Magalhães
Super Reviewer
Beautifully animated--and overall pleasing to the senses--The Rescuers is a delightfully dark, yet charming adventure film. The characters are likable (especially Bernard, Bianca, and Penny) and the plot is engaging. It is overall a memorable, smartly-conceived animated film that has that rare gift of being able to appeal to both children and adults because of its amount of suspense and classic Disney fun. It is ultimately one of the best films in the entire Disney animated canon.
Matthew Samuel Mirliani
Super Reviewer
The Rescuers Quotes
There are no approved quotes yet for this movie.