The Pure One (Pakeezah)
(1971)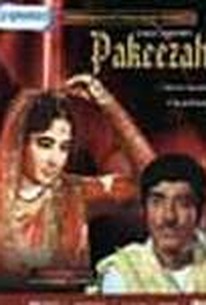 AUDIENCE SCORE
Critic Consensus: No consensus yet.
Movie Info
Nargis (famed Indian tragedienne Meena Kumari), a beautiful, talented courtesan gets a chance to escape her life when Shahabuddin (Ashok Kumar), from a respectable family, takes her away with plans to marry her. When his father angrily rejects Nargis and throws her out, she goes into hiding and has Shahabuddin's daughter as she dies of a broken heart. Years later, the daughter, Sahibjaan (Kumari again), who was found by Nargis' sister, Nawabjaan (Veena Sapru), is a courtesan herself. When Shahabuddin belatedly gets word of his child's existence, he goes to find her. But Nawabjaan angrily takes her away. On the long train ride, a stranger (Raaj Kumar) happens into Sahibjaan's compartment, and leaves a poetic note complementing her beautiful feet. Sahibjaan begins to dream of a different life. Eventually, an accident brings her to the stranger, who turns out to be Shahabuddin's nephew, Salim. Afraid to reveal her occupation, Sahibjaan tells him she has amnesia. They've dreamed of each other, and he takes her in, hoping to wed her. She finally breaks down and reveals the truth. Salim is steadfast, but the outside world will not let Sahibjaan forget her sordid past. Meticulous writer-director Kamal Amrohi began planning to make Pakeezah in the late 1950s, with his wife, Kumari. Nearly halfway through production, in 1964, the couple split, and the film was stopped. Years later, with Kumari in poor health, partly due to alcoholism, they resumed making the film. Composer Ghulam Mohammed died before the film was finished, and the score was completed by Naushad. Kumari died less than two months after Pakeezah premiered, and the film became a huge success.
Critic Reviews for The Pure One (Pakeezah)
All Critics (1) | Top Critics (1) | Fresh (1) | Rotten (0)
A byzantine story (of star-crossed lovers) that proceeds fitfully through the fabulous logic of dreams; luscious colour-scope photography, and a febrile camera craning and tracking restlessly through fairytale locations and sets.
Audience Reviews for The Pure One (Pakeezah)
Pakeezah is one of the Movies I first had my doubts and thought this would be a "Nikaah" sort of Movie, but I was very surprised, Pakeezah was nice to watch.
The Pure One (Pakeezah) Quotes
There are no approved quotes yet for this movie.