The Prince & Me
(2004)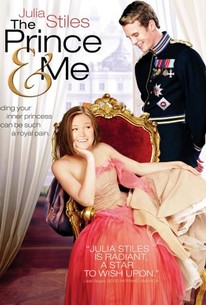 Movie Info
For the second time in her career, Julia Stiles plays a character romancing the Crown Prince of Denmark in The Prince & Me, a romantic wish-fulfillment fantasy from director Martha Coolidge. Far from her role as Ophelia in 2000's Hamlet, however, Stiles plays Paige, a plucky, determined college student from the Midwest who's buried in her last few semesters of pre-med studies when she meets Eddie, a brash, impudent Danish foreign-exchange student who just happens to have a mysterious partner (Ben Miller) shadowing him in everything he does. What Paige doesn't know is that Eddie is in fact the spoiled son of the King (James Fox) and Queen (Miranda Richardson) of Denmark, on holiday in America hoping to find a nonstop keg party complete with buxom American babes. What he and his butler don't count on is squalid dorm life, final exams, and the possibility that Eddie might actually find his true soul mate in the sensible Paige. But when Eddie finally reveals his secret, will Paige want to give up her dreams of becoming a doctor for a playboy prince?
News & Interviews for The Prince & Me
Critic Reviews for The Prince & Me
Audience Reviews for The Prince & Me
Romantic comedies don't need to always be about two well-rounded people, because, let's face it; the allure of these films is to escape into a world where we are the adoration of attractive men with quirks. Still, even without fully developed characters we want an interesting concept, or at least a McGuffin to further along the plot. "The Prince and Me" tries to cash in on the childlike dream of becoming a princess, while also following the trend of empowered woman taking down roguish playboys. Sadly the woman in question quickly loses her inhibitions and stops caring about her lifelong dream of becoming a doctor and saving the world, all for the benefit of some dude she's known for four months. As unbelievable as that all sounds, it's also strange that the prince is supposedly Danish and yet speaks with an English accent, as do all the other Danes shown throughout the film. I also take issue with the depiction of Wisconsin as a Podunk state where everyone is inclined to work on farms, as someone who lives in a urban city in the aforementioned state. You can't escape into the trappings of the genre because everything about this film is formulaic, cheap, and thoughtless, which says nothing about the lack of chemistry between the two leads.
Spencer S.
Super Reviewer
The best was this one. The rest are horrible and missing Julia Stiles big time.
Bethany Murphy
Super Reviewer
I just didn't get it. Not princessy enough for me (barely any scenes in the royal palace!), but not high school enough either. It's just a lot of Julia Stiles rehashing 10 Things I Hate About You and that other dude not being as charming as Heath Ledger.
Jennifer Xu
Super Reviewer
The Prince & Me Quotes
There are no approved quotes yet for this movie.