The Phantom
(2010)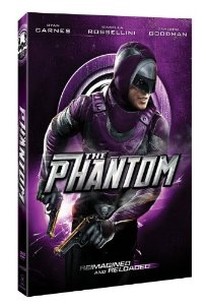 AUDIENCE SCORE
Critic Consensus: No consensus yet.
Movie Info
The purple-suited superhero is back, and ready to take on his most technologically-advanced adversaries to date in this live-action adaptation of the beloved comic book. Kit Walker (Ryan Carnes) is fearless; little does he realize that it's in his genes to seek out adventure. An adrenaline-addicted urban explorer, Kit discovers that he hails from a long line of crime fighters, and that now it's his turn to don the legendary Phantom suit and clean up the streets. But today's criminals are far more tech-savvy than the bad guys that his father and grandfather fought, and in order to keep the tradition alive he'll have to be stronger, faster, and smarter than all who came before him.
Critic Reviews for The Phantom
There are no critic reviews yet for The Phantom. Keep checking Rotten Tomatoes for updates!
Audience Reviews for The Phantom
½
I am a Phantom fan from day one, and when I heard of this film inspired by Lee Falk's comic strip of the same name, and directed by Paolo Barzman - I could not resist but to get it as soon as possible. It stars Ryan Carnes as Kit Walker, the 22nd Phantom... which is different! So much different that I wonder what were the screenwriters, father/son team Daniel Knauf and Charles Knauf, thinking writing this. They ruined the legend! Casting wasn't bad at all and most of the crew including Ryan Carnes as Kit Walker/Chris Moore - the 22nd Phantom, Cameron Goodman as Renny Davidson - Kit's girlfriend and paramedic, Jean Marchand as Abel Vandermaark - Kit's mentor and one of the Walkers' oldest allies although Kit becomes suspicious of his true intentions, Sandrine Holt as Guran - the Phantom's close friend and advisor, Ron Lea as Detective Sgt. Sean Davidson - Renny's father, Cas Anvar as Rhatib Singh - head of the Singh Brotherhood and Ivan Smith as Dr. Deepak Baboor - director of Bpaa Thap, did a good job. On the other hand, Isabella Rossellini as Dr. Bella Lithia was not what she used to be - a shining star! The movie was worst than any other made about this legendary comic, and the main elements of the story of the Phantom were missing, that I am not even sure that I could associate it with Phantom. Three hours of struggle to enjoy this US/Canadian co-production will stay with me forever - as a bitter taste in my mouth. No soul... nothing that used to captivate me while reading the stories. This Phantom looks more like a Power Ranger than the "Ghost who walks"! And I had enough of it.
The Phantom Quotes
There are no approved quotes yet for this movie.