The Pawnbroker
(1965)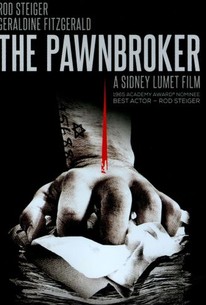 Movie Info
"The Pawnbroker" is the dark exploration into the soul of a man who is tortured by the unbearable pain of his past. In order to most effectively reveal his character, rather than relying on a traditional plot sequence, the film carefully extracts the events of a few days in the life of Sol Nazerman (Rod Steiger). A man who survived the horrors of the Nazi concentration camps but lost his wife and children, Nazerman is now alone, cold, embittered, and completely without faith in God or humanity. With indifference, he operates a pawnshop in New York's Spanish Harlem as a front for Rodriguez (Brock Peters), a black pimp and slumlord. Despite the continued efforts of his assistant, Jesus Ortiz (Jaime Sanchez), and a determined social worker, Marilyn Birchfield (Geraldine Fitzgerald), to break through his impenetrable walls, Nazerman remains detached and emotionless. This total noninvolvement extends to his loveless affair with Tessie (Marketa Kimbrell), a woman who lost her husband in the camps and whose father, Mendel (Baruch Lumet) disapproves of their current relationship. Flashbacks triggered by current daily events provide more detail of Nazerman's past, some which are so quick and disturbing as to be borderline subliminal. The most explicit flashback occurs when Ortiz's girlfriend, a black prostitute (Thelma Oliver) enters the shop to pawn a gold locket and bare her breasts to him hoping to increase his offered price. For Nazerman this causes pain, as it only reminds him of being forced to watch his wife raped by Nazi officers. Ortiz, the young, exuberant, lovable Puerto Rican assistant, continues to wear away at Nazerman's defenses, seeking some kind of emotional response. When Nazerman snaps back in thoughtless cruelty, Ortiz retaliates by arranging a robbery of the pawn shop. Nazerman's refusal to submit to the robbers results in gunfire, with Ortiz selflessly taking the bullet meant for his employer. His dying breath in the arms of Nazerman is at last the only thing the young man has done which breaks the stone barrier around the older man's heart, and evokes an expression of tenderness. Filmed in stark black-and-white,"The Pawnbroker" is a harshly realistic vision. Steiger's portrayal of an insensitive miser was pegged as anti-Semitic, civil rights organizations objected to Peter's totally unscrupulous character, and the Legion of Decency condemned the film based on Oliver's partial nudity scene. Nonetheless, the film received recognition from numerous critics' groups and Steiger, in what was his first starring role, picked up "Best Actor" honors from both the Berlin International Film Festival and the British Academy Awards.
News & Interviews for The Pawnbroker
Critic Reviews for The Pawnbroker
Audience Reviews for The Pawnbroker
½
Perhaps one of the few films about the legacy of the Holocaust, that is entirely focused on despair and emptiness . . . that being said, I get the feeling that Lumet was a little too into the French New Wave when he made this. I don't mean to belittle that movement, but it doesn't completely works for this kind of narrative.
Alec Barniskis
Super Reviewer
Steiger is wonderful as an emotional (and physical) survivor attempting some degree of normal after being through horror. A hit for Lumet.
John Ballantine
Super Reviewer
An amazingly acted & directed punch to the gut. Check out Ralph Rosenblum's great book for a look at the editing of this picture. It's called, When Shooting Stops.
Ken Stachnik
Super Reviewer
The Pawnbroker Quotes
There are no approved quotes yet for this movie.