The Other Woman
(2014)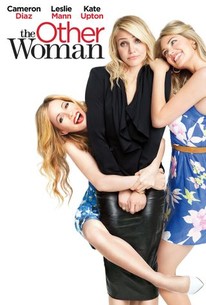 TOMATOMETER
AUDIENCE SCORE
Critic Consensus: The Other Woman definitely boasts a talented pedigree, but all that skill is never fully brought to bear on a story that settles for cheap laughs instead of reaching its empowering potential.
Movie Info
After discovering her boyfriend is married, a woman (Cameron Diaz) tries to get her ruined life back on track. But when she accidentally meets the wife he's been cheating on (Leslie Mann), she realizes they have much in common, and her sworn enemy becomes her greatest friend. When yet another affair is discovered (Kate Upton), all three women team up to plot mutual revenge on their cheating, lying, three-timing SOB. (c) Sony
News & Interviews for The Other Woman
Critic Reviews for The Other Woman
Audience Reviews for The Other Woman
½
Do you want to see a cheating, lying, smug s.o.b. get his just desserts? Get what's coming to him? Want him to hurt bad enough to taste it? Well apparently there's a market out there for those with lingering vitrol issues: let's pay money to see a swaggering nincompoop get what's coming to him, and this film is here to cater to that market (although I can't determine which is worst, that there is such a market or that someone caters it, like a hot dog vendor at the guillotine of French Revolution fame: "Get yer hot dogs! C'mon, you know yer hungry! Enjoy life a little! Get yer hot dogs!") Leslie Mann plays the primary wronged party with ditzy glee, the light of the piece. Cameron Diaz plays the brains of the operation with steady cool (a signpost in her career: she's graduated to brains. She used to be either the ditz or the cheese). And a popular model Kate Upton plays the cheese appropriately.
Kevin M. Williams
Super Reviewer
Definitely weaker than I expected, but worth at least one watch. Was it just me, or should whoever did the wardrobe have been sacked? Cameron Diaz in particular looked awful in most of the outfits. It was like they were going for wealthy, middle aged frump, when she was meant to be a successful and attractive career woman. The young mistress also liked pretty dowdy and even dumpy in most of her outfits. Well, probably says a lot about the story if I noticed the clothes so much. The story is pretty basic - the wife and two mistresses (one of whom didn't realise the guy was married) find out about each other, and rather than get in a cat fight, they become friends and set out to punish the womaniser. It should have been funnier than it was, though it had a few moments. The scene in the office with the blood and the smashed window felt like too much and not believable. Glad I finally saw it, but was expecting it to be better.
Nicki Marie
Super Reviewer
It delivers what you would expect, an amusing Rom-com that delivers a few laughs. Enjoy it for what it is, nothing more!
Film Crazy
Super Reviewer
The Other Woman Quotes
There are no approved quotes yet for this movie.