The Other Side of the Door
(2016)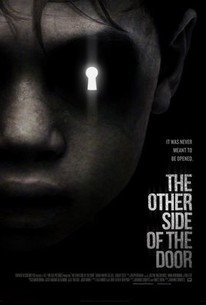 TOMATOMETER
AUDIENCE SCORE
Critic Consensus: Laden with flimsy jump scares and cheap stereotypes, The Other Side of the Door wastes solid work from Sarah Wayne Callies on thoroughly middling horror fare.
The Other Side of the Door Videos
The Other Side of the Door Photos
Movie Info
A family lives an idyllic existence abroad until a tragic accident takes the life of their young son. The inconsolable mother learns of an ancient ritual that will bring him back to say a final goodbye. She travels to an ancient temple, where a door serves as a mysterious portal between two worlds. But when she disobeys a sacred warning to never open that door, she upsets the balance between life and death.
News & Interviews for The Other Side of the Door
Critic Reviews for The Other Side of the Door
Audience Reviews for The Other Side of the Door
A few jumps allows this movie to remain somewhat interesting.
Film Crazy
Super Reviewer
It has an intriguing premise that could have led to a more original movie, but the result is just terribly predictable and full of clichés from beginning to end, especially in an awful third act that seems like a compilation of every horror movie cliché you can think of.
Carlos Magalhães
Super Reviewer
½
From a film starring a current cast member from The Walking Dead to, now, a film starring a former cast member. That's not really that important, it's just something to talk about just in case I don't have much to say about this film, so I can artificially lengthen the review. I guess I shouldn't complain the next time I see a film that's stretched thin, where they're practically reaching for ways to extend their story. That's neither here nor there and that's not really the point of this. As far as the film goes, this actually isn't half bad in all honesty and there's some pretty good moments here and there. Like the entire Myrtu creature and its design is actually really cool and might actually creep some people out. Javier Botet, whom you've probably seen perform as various monsters in horror films such as Mama, does an excellent job with the physical aspects of the character. Like I said, the design of the Myrtu character is really strong and there's something powerful about it, I can't quite put my finger as to what is powerful about it. Maybe it's the fact that it's inspired by both Greek and Indian mythology. As far as I can tell, there's no actual Myrtu in either mythos, but it's still a pretty cool monster. It's probably not gonna be remembered, since the film itself isn't exactly memorable, but I really liked the Myrtu monster. As far as the rest of this goes, it's a perfectly fine flick. It's not what one could call a clever or inventive horror film, but it offers a decent diversion for a little while. The story is fairly predictable. Woman going through a lot of grief after not being able to save her son from drowning is given a chance, through some supernatural shit, to say goodbye to him one last time. The way it's set up, Maria, our lead, has to lock herself up in this temple after spreading her son's ashes on the steps leading to the temple. After dark, she will be able to speak to her son, who's on the other side of the door (duh). But she is forbidden from opening the door, no matter how much he begs. You can pretty much guess what happens. Maria opens the door and allows Oliver's ghost to come back and also allows Myrtu, a demon that rules over the underworld, to come back as well. This is where things get a little confusing, because Oliver comes back and, all of a sudden, he's kind of a dick. Haunting his family, possessing his sister, etc, etc. Maybe the idea is that Myrtu is influencing over Oliver's actions, since she does rule over the underworld, but they never make that super clear. The story itself is fairly derivative, it kind of reminds me of Pet Cemetery. Though I can get into the idea of a mother overcome with so much grief that she is basically unable to live her life wanting one last chance to say goodbye to her son. That's an universal theme, one that I can even get into without being a parent myself. So I thought that worked well, even if the narrative progression itself is a little generic and derivative. The film also benefits from a strong performance by Sarah Wayne Callies. No complaints on that front at all, she does a great job with the material she is given here. It wasn't great, and it's not like Sarah made it great, but she was quite good here. There's some decent enough scares, a lot of them being of the jumpy variety, but, somehow, I wasn't as annoyed by it in this movie as I am in others. Part of it is that it doesn't really feel that lazy to me. It's not like it was super inspired or anything of the sort, but it's not as lazy or as uninspired in worse horror movies. And it's not like I would call this a good movie, it's average at best, but I enjoyed this more than the score would imply. Only way I'd recommend this if it ever hit Netflix or you have a free Redbox rental. That way you have nothing to lose, as did I. Derivative and unoriginal, but it's got some cool moments and good central performance from Sarah Wayne Callies.
Jesse Ortega
Super Reviewer
The Other Side of the Door Quotes
There are no approved quotes yet for this movie.