The Orphanage
(2007)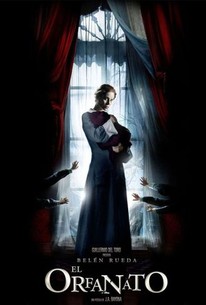 TOMATOMETER
AUDIENCE SCORE
Critic Consensus: Deeply unnerving and surprisingly poignant, The Orphanage is an atmospheric, beautifully crafted haunted house horror film that earns scares with a minimum of blood.
Movie Info
Pan's Labyrinth director Guillermo del Toro produces director Juan Antonio Bayona's gothic frightener about a long-abandoned orphanage with a particularly troubling past. As a child, young orphan Laura spent her formative years being cared for by the staff of a large orphanage located by the Spanish seaside. Those were some of the happiest years of Laura's life, and now, 30 years later, the former charge returns to the dilapidated institution with her husband, Carlos, and their seven-year-old son, Simon, to reopen the orphanage as a facility for disabled children. However, something ominous haunts the darkened hallways of this silent, stately manor. When Simon's behavior begins to grow increasingly bizarre and malicious, Laura and Carlos start to suspect that the mysterious surroundings have awoken something ominous in the young boy's imagination. It's not long before Laura, too, is drawn into this disturbing web and the repressed memories of the past come flooding back in a terrifying torrent of tension and deeply disturbing revelations. With opening day drawing near and their situation growing increasingly grim by the hour, Carlos attempts to write off Simon's bizarre behavior as a desperate bid to get more attention from his distracted parents. Laura isn't so easily convinced of this theory, though, and soon embarks on a desperate quest to unearth the terrible secret that lurks in the old house, waiting for just the right moment to inflict devastating damage on both her and her family.
News & Interviews for The Orphanage
Critic Reviews for The Orphanage
Audience Reviews for The Orphanage
½
[img]http://images.rottentomatoes.com/images/user/icons/icon14.gif[/img]
Directors Cat
Super Reviewer
Great awesome edge of your seat perfect movie. Wow I was speechless of how good this movie was. Laura purchases her beloved childhood orphanage with dreams of restoring and reopening the long abandoned facility as a place for disabled children. Once there, Laura discovers that the new environment awakens her son's imagination, but the ongoing fantasy games he plays with an invisible friend quickly turn into something more disturbing. Upon seeing her family increasingly threatened by the strange occurrences in the house, Laura looks to a group of parapsychologists for help in unraveling the mystery that has taken over the place.
Spain has turned out quite a few excellent horror films in the last few years, and in my opinion, some of the most terrifying and original films of the last decade. The Orphanage is a brilliant, near flawless and beautifully constructed ghost story. The film benefits from all the necessary ingredients to make a terrifying, and memorable horror film. Director J.A Bayona crafts one of the best ghost stories I've seen since The Others. What makes The Orphanage such a solid horror film is the tense, creepy atmosphere and effective pacing to steadily build up the horror. This is a solid, well acted horror film that is a must see for Diehard fans of the genre, or anyone looking for a good scare. I love horror, been a fan since I was a kid, and I've been quite unhappy with the current state of horror with all the remakes being released. Aside from a select few, most of them are terrible. However, it's nice to see an original, creepy horror film like this that comes out considering the fading trend of quality horror films. The Orphanage is a solid horror film. This is a smartly crafted film that delivers genuine chills and suspense. The Orphanage is simply put a brilliant, well acted horror film that is memorable and is one of the best horror films of the last decade. The film is scary, thrilling and spine tingling, as what a good horror film should be.
The Orphanage Quotes
There are no approved quotes yet for this movie.