The One I Love
(2014)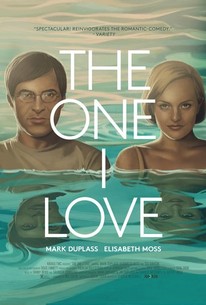 TOMATOMETER
AUDIENCE SCORE
Critic Consensus: The One I Love doesn't take its intriguing premise quite as far as it could, but it still adds up to an ambitious, well-acted look at love and marriage.
Movie Info
The highly anticipated debut feature from acclaimed author Charlie McDowell, THE ONE I LOVE is an original tale that continues to showcase McDowell's keen observations of human relationships with a distinct and comedic voice. THE ONE I LOVE, written by Justin Lader, was produced by Mel Eslyn and executive produced by Mark Duplass who stars opposite Elisabeth Moss. On the brink of separation, Ethan (Duplass) and Sophie (Moss) escape to a beautiful vacation house for a weekend getaway in an attempt to save their marriage. What begins as a romantic and fun retreat soon becomes surreal, when an unexpected discovery forces the two to examine themselves, their relationship, and their future. (C) TWC- Radius
News & Interviews for The One I Love
Critic Reviews for The One I Love
Audience Reviews for The One I Love
A floundering couple go away on a weekend retreat where a hexed cottage miraculously bestows them with their ideal versions of each other. Sophie's ideal Ethan exercises, doesn't wear glasses, and has a cooler beachier hairstyle. Ethan's ideal Sophie is always sunny and smiling, doesn't nag him about his poor eating habits, and is content to busy herself whenever he gets distracted and disappears from their romantic getaway. Real Sophie and Ethan agree to spend fifteen minutes each with their respective fantasy beaux just to figure out what's happening, but like in any tense relationship drama, greener grass begets green-eyed jealousy. The suspenseful thriller aspect of this film does indeed provide eerie WTF moments and threats of danger, and I thought these perfect mirages would be metaphors for those six insignificant things we'd like to change about our partners, but then *spoilers*, the already surreal movie takes an awkward dip into surreal reality, revealing that the mirages are actually living people - past clients whose partners chose the better versions of themselves and have now been coached and nip/tucked to imitate new clients in an attempt to escape the cottage. Dark and mindfucky metaphor of how we change ourselves to adapt to new lovers whom we may not even be that into, but the rules of this satirical universe aren't entirely elucidated, so the plot falls apart from there.
Alice Shen
Super Reviewer
An inventive little twist to the usual relationship comedy makes for an interesting time at the flickers, at least initially, as a couple venture to a retreat to mend their troubles. The follow-through leaves something to be desired, and yet this is still a more interesting piece than most, with something valid to take away at the ending.
Kevin M. Williams
Super Reviewer
½
This is one of the smartest and yet simple concepts I have seen in the fantasy/relationship drama genre. Going in I was unaware of the concept, which revolves around a troubled couple at a resort, who find that the back guest house is a door into some kind of fantasy world where they find their true bliss, at a great cost. Read more at http://www.bluefairyblog.com/reviews/2015/4/26/the-one-i-love
Spencer S.
Super Reviewer
The One I Love Quotes
There are no approved quotes yet for this movie.