The Neighbor
(2007)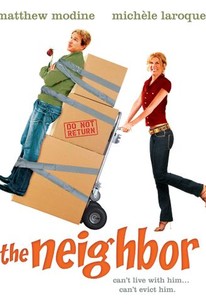 AUDIENCE SCORE
Critic Consensus: No consensus yet.
Movie Info
Matthew Modine and Michèle Laroque star as two warring neighbors who discover that they might just be a match made in heaven during a date that was originally devised to send them on their separate ways. Christine (Laroque) is a powerful real estate developer who longs to acquire the apartment of her upstairs neighbor Jeff (Modine). Jeff is a businessman and artist who recently learned that his ex-wife is about to marry his ex-best friend. Recognizing that Christine wants him out of the building he has lived in for many years, Jeff agrees to move out if Christine will pose as his fiancée at his ex-wife's upcoming wedding. Christine realizes that this may be her only chance to rid herself of her longtime nemesis, and reluctantly agrees to take part in the ruse. Things get complicated, however, when Jeff and Christine step out onto the dance floor and lock lips during a slow dance. In the complicated aftermath of that confusing dance, Christine begins to rethink her renovation plans and Matthew realizes that he may have finally found the perfect mate.
Critic Reviews for The Neighbor
All Critics (2) | Top Critics (1) | Fresh (0) | Rotten (2) | DVD (1)
Modine does what he can to sell the flimsy premise, but he's so hamstrung by Eddie O'Flaherty and J.P. Davis' sketchy script -- not to mention by O'Flaherty's clumsy direction -- that it's a losing battle.
Laroque has starred in dozens of these featherweight comedies in France, but this material forces her to new grades of mildness. Even during shouting matches with Modine, her emotional pitch rarely exceeds a middling 25 MPH.
Audience Reviews for The Neighbor
Looks like a tv movie and not all that exciting, but harmless enough viewing and it made a refreshing change to see a slightly older leading lady. Cast are fine and the premise works reasonably well. Though the woman is not written initially to be likable, she is never so awful that you totally hate her. This is a romantic comedy with a few small laughs. Pretty tame stuff but a slightly older female audience may enjoy this one. I am going to pass my copy to my mum! After the offensive mess that was Grown Ups, this may be just the thing!
Nicki Marie
Super Reviewer
½
I'm Glad I have no Neighbor's like that. It wasnt too funny, more like staker unfunny.
Joseph Eastmond
Super Reviewer
½
Good movie. A little on the funny side, but cute. Interesting cast- Matthew Modine, Michele Laroque, and Meredith Scott Lynn. Worth seeing.
The Neighbor Quotes
There are no approved quotes yet for this movie.