The Mule
(2018)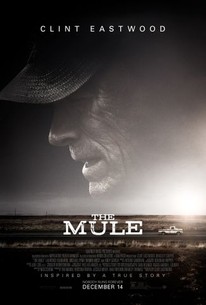 TOMATOMETER
AUDIENCE SCORE
Critic Consensus: A flawed yet enjoyable late-period Eastwood entry, The Mule stubbornly retains its footing despite a few missteps on its occasionally unpredictable path.
Movie Info
Earl Stone, a man in his 80s who is broke, alone, and facing foreclosure of his business when he is offered a job that simply requires him to drive. Easy enough, but, unbeknownst to Earl, he's just signed on as a drug courier for a Mexican cartel. He does well -- so well, in fact, that his cargo increases exponentially, and Earl is assigned a handler. But he isn't the only one keeping tabs on Earl; the mysterious new drug mule has also hit the radar of hard-charging DEA agent Colin Bates. And even as his money problems become a thing of the past, Earl's past mistakes start to weigh heavily on him, and it's uncertain if he'll have time to right those wrongs before law enforcement, or the cartel's enforcers, catch up to him.
News & Interviews for The Mule
Critic Reviews for The Mule
Audience Reviews for The Mule
An all-star cast help deliver this middle-of-the-road tale of an old geezer rebuilding the bridge to his disassociated family. This is possible mainly due to the mad money the guy makes by running drugs. The work is competent, unfortunately even while avoiding the inherent moral implications, or any thoughts of it, thereby reducing the thrust of the work to little better than an offering from Hallmark. What"s more interesting than the actual plot is how the artist relays knowledge of the cultural divisions in the United States and offers ideas as to dealing with them.
Kevin M. Williams
Super Reviewer
½
For all purposes, this is Gran Torino 2 - or how Clint Eastwood plays another cartoonish old geezer who has the depth of a saucer (and befuddling motivations) and is supposed to be funny by talking shit to strangers - so, let's just forget this and go for Breaking Bad instead.
Carlos Magalhães
Super Reviewer
½
Clint Eastwood plays a real-life 90-year-old drug mule, though I must inform you dear reader that at no point does he hide his cargo in a very uncomfortable place. The Mule is an interesting story about the most unexpected mule. Eastwood plays a man broke and on the outs with the family he's neglected their entire lives. He takes up an offer to simply drive albeit for a Mexican drug cartel. As with most life-of-crime movies, what starts off uneasily becomes second nature as our characters get in over their heads. Except that doesn't really happen in The Mule. I would estimate twenty percent of the movie is watching Eastwood drive and sing along to the radio. There are some tense near misses where he's almost caught, but these are confined to the first half. In the second half the cartel becomes the chief source of danger, all because he doesn't go by their routes. If he's their most successful mule, having never had a ticket in his life, then why micromanage? There are some other nitpicks that nagged at me, like the cartel knows the DEA agents (Bradley Cooper and Michael Pena) are pulling over a very specific color and kind of car, but at no point do they change out Eastwood's car. Also, Eastwood is spending vast sums of money in public for a man who was losing his house, and yet no red flags there. Eventually Eastwood has to make a choice of family over angering the cartel and risking his life, and I think you'll know where his character arc is destined. The dramatic shape of the movie feels a little too inert for the stakes involved, leading to an all too tidy conclusion. Eastwood delivers a fine performance, as does every other actor involved. The movie kind of coasts along, much like Eastwood in his truck, on the inherent interest of its premise and the star power of its lead/director. The Mule might have worked better as a documentary. Nate's Grade: B-
Nate Zoebl
Super Reviewer
The Mule Quotes
There are no approved quotes yet for this movie.