The Moth Diaries
(2012)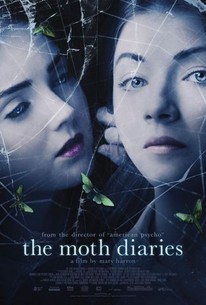 Movie Info
Acclaimed director Mary Harron returns with the chilling story of Rebecca (Sarah Bolger), a young girl who, haunted by her father's suicide, enrolls in an elite boarding school for girls. Before long, Rebecca's friendship with the popular Lucy (Sarah Gadon) is shattered by the arrival of a dark and mysterious new student named Ernessa (Lily Cole). Rebecca, whose overtures of concern are rejected by Lucy, finds herself lost and confused. Rebecca starts to suspect that Ernessa is a vampire, but, despite the suspicious deaths that begin to occur, her fears are treated as simple girlish jealousy. As the bodies of young girls pile up and the line between reality and the supernatural starts to blur, Rebecca decides to take matters into her own hands and get rid of Ernessa. -- (C) IFC
News & Interviews for The Moth Diaries
Critic Reviews for The Moth Diaries
Audience Reviews for The Moth Diaries
The pseudo vampire film The Moth Diaries is a weak and monotonous attempt at a psychological thriller. There are some interesting themes and an intriguing set up, but there's no follow through. In a standard Dracula story arc, a young boarding school student named Rebecca begins to suspect that a new student named Ernessa isn't what she seems and is attempting to seduce and kill her friend Lucy. The casting is pretty good, and features Sarah Bolger, Lily Cole, Valerie Tian, and Scott Speedman. But the writing is especially poor, bringing up questions and mysteries that are never answered. While The Moth Diaries does a fairly decent job at building suspense and tension, there's no payoff to any of it.
Dann Michalski
Super Reviewer
Pleasantly surprised. I expected very little from this (actually I expected another crap movie, and following on from Vampire Academy, seemed to be my night for it). Genuinely creepy and suspenseful boarding school story with a cast that can actually act. The one flaw was the rushed ending, it felt too quick and easy, and at just 78 minutes, the movie was hardly out wearing it's welcome and could have stood a little more fleshing out. Enjoyed this, though.
Nicki Marie
Super Reviewer
½
Interesting movie. Dark. Mysterious. A little slow. Not as bad as the low ratings would suggest.
Cynthia S.
Super Reviewer
The Moth Diaries Quotes
There are no approved quotes yet for this movie.