The Mole Man Of Belmont Avenue
(2013)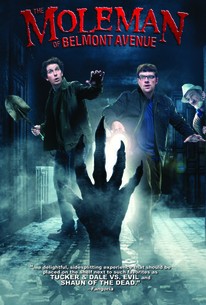 AUDIENCE SCORE
Critic Consensus: No consensus yet.
The Mole Man Of Belmont Avenue Photos
Movie Info
Two years ago, the Mugg Brothers, who have never worked a day in their lives, inherited a brownstone apartment building. In that short time, their slacker ways have run the building into the ground. Tenants are moving out, no one drinks at the bar downstairs, and the building's pets are going missing. If all that isn't enough to make them sit up and take notice, they soon discover a mysterious creature is hiding in the basement and trying to eat every living thing in the building one by one. Now it's up to them to stop this creature, before it eats all of their paying tenants! (c) Level 33
Critic Reviews for The Mole Man Of Belmont Avenue
All Critics (2) | Fresh (0) | Rotten (2)
Has a ton of potential to be a raucous and creepy horror comedy, but it can't quite live up to it.
All it needed was a rewrite from a Second City cast member to punch it up a bit.
Audience Reviews for The Mole Man Of Belmont Avenue
This film is certainly appropriately silly and it has decent enough leads to make some of the movie's jokes work. But the movie doesn't quite manage to reach a point where I think this was good...or even average. I think for, most of the film at least, I thought this was average. But there comes a time, most like a lot of horror/comedy films, where the film just starts to drag and then you start to notice that the script is really quite anemic when you start to think about it. It's not that I really expected the film to have an incredible story with great character development, but there's not much going on here at all. I did find myself laughing at some of the lines, but that doesn't mean that there's a lot going on here. The film is obviously low-budget. If you hadn't noticed at the start, then you'll notice once they reveal the mole man at the end, looks very DIY. But that's to be expected and it's not like that will keep me from giving a movie a good score if it at least delivers an entertaining experience. I think people place a lot of needless importance on the budget of a particular film. So I don't typically worry about the budget of the film, I just worry if it offers an entertaining experience with a good script with an energetic tone and a solid cast. You don't need all of those that I just mentioned, but at the very least having 2 of them is good enough for me. Unfortunately though, this film has a good cast and that's about it. So I believe they end up elevating the script for the most part and pulling the wool over your eyes as far as realizing that the script isn't as anemic, when it actually is. But I digress, this movie, particularly for being such a low-budget endeavor, could've been so much worse, but it wasn't. And in some ways, that's the biggest compliment you can pay a horror film. Not terrible, but it's not something I'll ever need to watch again.
Jesse Ortega
Super Reviewer
The Mole Man Of Belmont Avenue Quotes
There are no approved quotes yet for this movie.