The Mirror
(1975)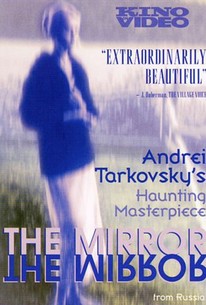 Movie Info
Juxtaposing scenes of daily life with pivotal moments in Soviet history, the film cross-cuts between color and black-and-white photography to find ground between dreams and reality.
News & Interviews for The Mirror
Critic Reviews for The Mirror
Audience Reviews for The Mirror
Exquisite picture from start to finish, I found myself thoroughly captivated by this picture. Tarkovsky uses images and atmosphere to really tell a compelling story, and he does that so well that you forget that the plot is so simple because what you are watching is very good and well directed. The story is nothing remarkable, but the way that Tarkovsky tackles the subject is absolutely unique. There is no doubt that he is one of cinema's finest filmmakers, because every one of his picture are very well crafted with riveting, engaging storylines and brilliant performances that only helps in defining his work even more. For fans of cinema, The Mirror should be a must see, as it is a superb film that is like watching a journey unfold before your eyes. The power of Tarkovsky's work is more visual than anything, and he is able to make something truly standout just by delivering a film based on striking images that stays with you after the credits roll. His work is somewhat polarizing and with good reason, he is an ambitious talent that always sought to crafts a film that stood out but more so in a visual sense. His pictures tend to be art in a sense, very much like Stanley Kubrick, and he tends to push to envelop in a way that brings out the best in his work. He always used simple ways to tell his stories, yet he always managed to deliver something quite special because his films always dealt with interesting subjects that stood out in the cinematic medium. The Mirror is a terrific drama that is engaging from start to finish, and if you enjoy Andrei Tarkovsky's films, you'll surely love this one as well.
SO bad I turned it opff after 40 Min . 1/2 star
Bruce Bruce
Super Reviewer
a gorgeous piece about time and memory, very densely layered. don't think too much is my advice. i prefer it over tarkovsky's other films. tho almost plotless, it's never boring
Stella Dallas
Super Reviewer
The Mirror Quotes
There are no approved quotes yet for this movie.