The Mill and the Cross
(2011)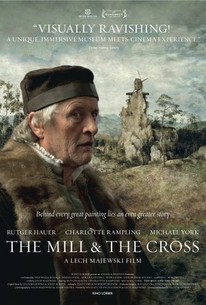 The Mill and the Cross Photos
Movie Info
What would it be like to step inside a great work of art, have it come alive around you, and even observe the artist as he sketches the very reality you are experiencing? Lech Majewski brings to life Pieter Bruegel's masterpiece The Way to Calvary, the story of the crucifixion, setting it in 16th century Flanders under brutal Spanish occupation. Rutger Hauer plays the artist, Michael York his patron, and Charlotte Rampling the Virgin Mary. As epic events unfold, bawdy country living continues unabated: couples entwine, musicians play wind instruments, soldiers torment their enemies mercilessly, and children scurry about. Using sophisticated computer technology, the filmmaker creates a brilliantly complex and fascinating multi-layered dreamscape that melds iconic moments in art, history, and religion with the quotidian lives of ordinary people. -- (C) Kino Lorber
News & Interviews for The Mill and the Cross
Critic Reviews for The Mill and the Cross
Audience Reviews for The Mill and the Cross
½
What a truly remarkable accomplishment in terms of jaw-dropping visuals, but the problem is that Cinema is not Painting, and so Majewski is unable to transpose the symbolism of Bruegel's work to the screen without relying on an expository explanation of his intentions.
Carlos Magalhães
Super Reviewer
½
This unusual art movie illustrates the story behind Pieter Bruegel's 1564 painting "The Way to Calvary," describing the stories of some of the characters who appear in the sprawling picture, examining Bruegel's strategy in composing the canvas, and sometimes using the actual painting as a backdrop to the action. It's done with love and skill, but honestly, sometimes it's like watching paint dry; this would have been excellent at 1 hour. By playing Bruegel, Rutger Hauer became the first actor in history to portray a 16th Century Flemish painter and a hobo with a shotgun in the same year.
What would it be like to step into a great work of art and experience the lives on the people within? That's the idea behind The Mill and the Cross a languid recreation of "The Way to Calvary, the 1564 masterpiece by Painter Pieter Bruegel. Throughout the film we often see the Flemish renaissance artist painting the scene. But most of the action takes place inside the composition as we observe the community within. It's an interesting concept, beautifully presented, but the sluggish pace is just too lethargic to enjoy. The notion of transforming a painting into a moving picture is an ambitious idea. Unfortunately there simply isn't enough drama to justify the movie. There's scarcely any dialogue. What little there is, is rather awkward and clumsily spoken. The story merely lies there to be appreciated much as a painting would be. The problem, this isn't a painting, but a film where different rules apply. The entire exercise feels academic. The actual painting currently hangs in the Kunsthistorisches Museum in Vienna, Austria. Indeed it would be much more dramatic to gaze upon the actual artwork for 96 minutes than to watch this boring artistic study. I will admit the movie would make the perfect DVD to sell in the gift shop there, or any art gallery for that matter. As art history, the film is visually incredible, but as a cinematic entertainment, it fails.
Mark Hobin
Super Reviewer
The Mill and the Cross Quotes
There are no approved quotes yet for this movie.