The Meddler
(2016)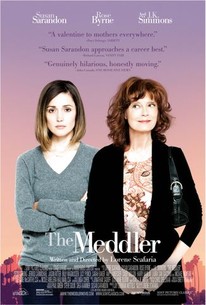 TOMATOMETER
AUDIENCE SCORE
Critic Consensus: The Meddler transcends its cutesy title and familiar premise with a heartfelt look at family dynamics that's honored by a marvelous performance from Susan Sarandon.
Movie Info
With a new iPhone, an apartment near the Grove, and a comfortable bank account left to her by her beloved late husband, Marnie Minervini has happily relocated from New Jersey to Los Angeles to be near her daughter Lori, a successful (but still single) screenwriter, and smother her with motherly love. But when the dozens of texts, unexpected visits, and conversations dominated by unsolicited advice force Lori to draw strict personal boundaries, Marnie finds ways to channel her eternal optimism and forceful generosity to change the lives of others - as well as her own - and find a new purpose in life.
News & Interviews for The Meddler
Critic Reviews for The Meddler
Audience Reviews for The Meddler
½
While Lorene Scafaria has only made one other film, she is one of my foremost favorite female and independent film directors. She writes relatable, funny, realistic characters who act on instinct and fellowship. Looking at the poster, I thought this was going to be a run-of-the-mill comedy about mothers and daughters not relating, a tired trope that often makes for ugly stereotypes and over-the-top acting (see The Guilt Trip). Through a beautiful cosmic set of circumstances the right people were cast, the story was told, and here we are with a radiant and relatable film. While the poster suggests this story is all about mother-daughter relations, it actually centers on the mother, Marnie Minervini (Susan Sarandon). Marnie moves to Los Angeles from New York to be closer to her middle-aged daughter, Lori (Bryne) who finds her widowed mother to be meddling. When Lori has to go to the East Coast for work, Marnie has to find her own way, eventually becoming a powerful force in strangers' lives. Throughout the film Marnie is gracious and giving, though guilty about her large inheritance from her dead husband. Along the way she also learns to love again and that her energies can help any number of people. With a great supporting cast (including J.K. Simmons, Cecily Strong, and Jerrod Carmichael) this story is both perplexingly original and yet familiar, like the feel of a worn terrycloth robe. Scafaria related in interviews that a lot of Marnie's character came from her own mother, a widow from New Jersey who has since followed her talented daughter on her press tours for this film. It makes sense that there is an authenticity to the character, because Marnie feels like all our mothers: a little judgmental, pretty outspoken, and loves and supports you in every single possible way. The only thing that detracts from the plot is the constant moving between both coasts. It somewhat confuses the story, lends to disambiguation about Lori's relationship with her ex, Jacob (Ritter), and slows the action. I know we switch so Marnie is confronted with what she has do to with her husband's ashes, and it lends to a better understanding of her life before she moved to LA, but the best parts of the story take place in LA. Otherwise, I thought this entire film was a wonderful surprise, and that Scafaria should continue making personal, entertaining films such as this.
Spencer S.
Super Reviewer
½
Susan Sarandon and Rose Byrne star in the quirky, off-beat comedy The Meddler. After the death of her husband Marnie Minervini moves to Los Angeles to be near her daughter and begins inserting herself into her life, and in the process Marnie ends up making a new live for herself. Sarandon gives a strong performance, but Byrne is underwhelming and gets pushed into the background. The writing is also an issue, as it doesn't have a lot of focus and leaves a number of loose tangents. Yet, what comedy there is works and there's an earnestness to the mother/daughter relationship. Mildly entertaining, The Meddler is kind of fun, though it's also a bit of mess.
Dann Michalski
Super Reviewer
Slight. I had high hopes for this one too. It's not bad so much as uneventful. Though I was grateful it didn't go where I thought it might. Not bad as a slice of life film, but being quite slow, not one to watch over either.
Nicki Marie
Super Reviewer
The Meddler Quotes
There are no approved quotes yet for this movie.