The Marine 2
(2009)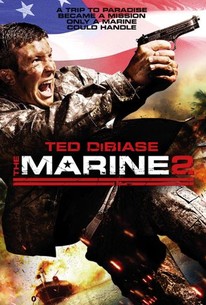 AUDIENCE SCORE
Critic Consensus: No consensus yet.
Movie Info
A Marine recon sniper must rely on his training to save his wife and the terrified guests of a five star hotel when a group of heavily armed rebels besiege the luxury resort. Joe Linwood is a trained warrior, but he never expected he'd be doing battle on vacation. But that's just what happens when the hotel Joe and his wife are staying at is violently overtaken. The target: the hotel's billionaire owner. But they won't hesitate to kill anyone who threatens to derail their diabolical plan, including Joe's wife. Now, with precious little time to lose, Joe prepares to take on a small army of gun-toting thugs and rescue his wife before it's too late. ~ Jason Buchanan, Rovi
Critic Reviews for The Marine 2
There are no critic reviews yet for The Marine 2. Keep checking Rotten Tomatoes for updates!
Audience Reviews for The Marine 2
When people hear WWE films, or see that a wrestler is starring in a movie, they are automatically turned off, and I never understood why. We tend to see wrestlers as muscles heads, running around in their underwear, but the truth is that wrestling is fake. These guys are all actors who every week need to learn line and choreography, just like an actor does! When WWE films was launched in 2006, a lot of people snickered, but the truth is, we've gotten some pretty films from the company, including 12 Rounds, The Call, See No Evil, and The Marine. Much like other Action films, the plot of the Marine 2 is somewhat thin. The story features a highly decorated, U.S. Marine, on vacation with his wife, when the resort is overrun by terrorists. The Marine (Ted DiBiase Jr.), has to take it upon himself to save his wife and the other hostages, when it becomes painfully obvious that the local military isn't equipped to deal with the terrorists. DiBiase Jr., a third generation wrestler, is the star of this film, an unlike John Cena in the first film, DiBiase really seems to have some type of military training in his background. The action and fight sequences are much better in this film then they were in the first. DiBiase Jr. really seems to know what he's doing and it made the story that much more enjoyable. What DiBiase Jr. lacks in acting skills, is more than made up for with the terrific action sequences. He is also aided by some fairly big names for a film like this, including Michael Rooker of The Walking Dead and Star Wars, Temuera Morrison. The first Marine film was a debut for a studio and lacked the bite of most Action films. The second installment was much better, featuring a more experienced cast, and much better fight sequences. You may not want to see this film, because it's a WWE production, and I can respect that, but in all honesty, you'll be missing out on a more than decent Action movie.
Todd Smith
Super Reviewer
It wasn't too bad even though didn't go into it expecting too much. WWE wrestler Ted DiBiase Jr.'s acting was okay. He didn't have many lines. No worse than the acting in most other action flicks. He wasn't as stiff an actor as John Cena. Enjoyable action flick. Worth a shot. Storyline was what you would expect. Camera work was good. DiBiase Jr. did kick some butt. The Marine 2 also has the distinction of having one of the most blandest villains I have ever seen in Temuera Morrison.
Dean McKenna
Super Reviewer
The Marine 2, released on December 29, 2009, stars WWE superstar Ted DiBiase Jr(son of the Million Dollar Man) in the lead role. Unlike the original, it was released direct-to-DVD. DiBiase stars as recon sniper Joe Linwood whose off-duty vacation to Thailand with his wife finds them embroiled in the middle of a hostage situation at the massive resort at which they're staying. When a separatist group sieges the resort during its gala opening, Linwood's wife is among the hostages and Linwood escapes to plan the eventual rescue mission. The Marine 2, in an R-rated, 90-minute bout of semi-constant ass-kicking but this wrestler-turned-action star lacks the intimidating visual presence of somebody like John Cena. However I do love action films and this one was pretty entertaining.
The Marine 2 Quotes
There are no approved quotes yet for this movie.