The Man Who Laughs
(1928)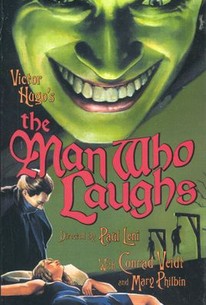 The Man Who Laughs Photos
Movie Info
The second of German director Paul Leni's American films (Cat and the Canary was the first), The Man Who Laughs is a lavish adaptation of the novel by Victor Hugo. The story concerns Gwynplaine, the son of an enemy of the evil King (Sam DeGrasse). Putting Gwynplaine's father to death in his torture chamber, the King exacts a further revenge by ordering that the boy's face be carved into a permanent, hideous smile. Abandoned in the snowy hills, Gwynplaine rescues another outcast, a blind girl named Dea. The two join a circus troupe and grow up together. The adult Gwynplaine (played by Conrad Veidt) falls in love with the sightless Dea (Mary Philbin), who "sees" only his kindnesses and not his grotesquely smiling face. When his noble heritage is revealed, Gwynplaine is presented in court before the Queen, who considers his permanent grin an insult. Once more an outcast, Gwynplaine sails to the New World, with the loving Dea at his side. While many existing prints of the silent Man Who Laughs are in washed-out black and white, it should be noted that the film was originally (and exquisitely) tinted and toned, and was also accompanied by a Fox Movietone musical track. Though the property was later optioned by Kirk Douglas, The Man Who Laughs was never remade.
Critic Reviews for The Man Who Laughs
Audience Reviews for The Man Who Laughs
Based on a novel by Victor Hugo, this is the story of Gwynplaine- a nobleman's son who, when he was a child, was kidnapped by a political rival, and disfigured by a gypsy "surgeon" who carves a perpetual smile onto the young boy's face. Finding shelter with a traveling freakshow, Gwynplaine matures into adulthood and falls in love with the beautiful, but blind Dea, who is the only person able to get past his appearance. Eventually Gwynplaine gets drawn back into the world of political intrigue where he finds himself forced to make some really crucial decisions. Because of Gwynplaine's facial deformity (which also served as the inspiration for Batman's arch nemesis The Joker), and the garish freakshow elements, this film is often thrown in with the horror genre. In reality, it's really just a sweeping melodramatic romance, and a decent one at that. This was made for Universal, but fits right in with the German Expressionist era that many of the cast and crew got famous in. It features wonderful shadowy cinematography, moody set designs, and some good makeup effects from renowned artist Jack Pierce. It's a silent affair, but has some great music and sound effects to carry it along. I did enjoy the story, but feel that, at 110 minutes, this is too long. Maybe if this were a talkie this wouldn't be an issue. Since it's silent though, a lot of it feels really drawn out and overblown. I really dug the performances though. Conrad Veidt is terrific as Gwynplaine, and Pierce's makeup effects are pretty snazzy, especially considering when this was made. Mary Philbin is captivating as Dea, and she and Veidt make for a wonderful screen couple. The performances by Olga Baclanova, George Siegmann, and Cesare Gravina are pretty swell as well. All in all, this is a really good film, but somewhat flawed. Maybe if it were a little tighter my grade would be a bit higher. That said though, I still really enjoyed this, and definitely think you should give it a try.
Chris Weber
Super Reviewer
A great classic movie, I really liked it, it's beautiful. I can tell that many films have been inspired by this story, and it's great to finally see the inspiration. I highly recommend seeing this movie.
spectacular movie!! Its not so much a horror movie as it is a romance. I ador Conrad Veidt and Mary Philbin. They are both great!!
Morgan Salem
Super Reviewer
The Man Who Laughs Quotes
There are no approved quotes yet for this movie.