The Man Who Knew Infinity
(2016)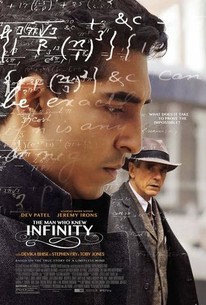 TOMATOMETER
AUDIENCE SCORE
Critic Consensus: The Man Who Knew Infinity might be a tad too conventional to truly do its subject justice, but Dev Patel and Jeremy Irons elevate the end result beyond mere biopic formula.
The Man Who Knew Infinity Videos
The Man Who Knew Infinity Photos
Movie Info
Written and directed by Matthew Brown, The Man Who Knew Infinity is the true story of friendship that forever changed mathematics. In 1913, Srinivasa Ramanujan (Dev Patel), a self-taught Indian mathematics genius, traveled to Trinity College, Cambridge, where over the course of five years, forged a bond with his mentor, the brilliant and eccentric professor, G.H. Hardy (Jeremy Irons), and fought against prejudice to reveal his mathematic genius to the world. The film also stars Devika Bhise, Stephen Fry and Toby Jones. This is Ramanujan's story as seen through Hardy's eyes.
News & Interviews for The Man Who Knew Infinity
Critic Reviews for The Man Who Knew Infinity
Audience Reviews for The Man Who Knew Infinity
A moving account of Srinivasa Ramanujan, the genius mathematician who rose out of poverty in India to solve problems believed to be unsolvable, and whose profound insights have altered math all the way up to the present day. The cast is very strong, led by Dev Patel in the role of Ramanujan, and including Jeremy Irons as his mentor G. H. Hardy and Devika Bhise as the wife he leaves behind in India to study at Trinity College in Cambridge. Director Matt Brown captures some great shots in both Madras and Cambridge, and effectively transformed the biography of Ramanujan into a screenplay which is nuanced and much more than math. It is fascinating to see the mentor obviously surpassed by the student (and knowing it), but trying to temper creative genius with the need to grind out proofs, but the movie also includes the dynamics of conservative and liberal politics at the time leading up to WWI, love and sacrifice, and atheism and faith. It also has the ugly racism Ramanujan encountered, as well as shows how hard it was for him to adapt to being in England. There is a human element here, as well as a spiritual element. "There are patterns in everything. The color in light, the reflections in water... in math, these patterns reveal themselves in the most incredible form. It's quite beautiful," he says. Another time, after Hardy has taken a taxi with the number 1729 on it and mentioned that the number is rather dull, Ramanujan comments "No, it is a very interesting number; it is the smallest number expressible as the sum of two cubes in two different ways", which is a true anecdote. It's hard to fathom those singular few, who out of billions of people who have been born have such extraordinary gifts. It's not hyperbole to put Ramanujan in the same class as Mozart and Newton, and it's heartbreaking that he died at the age 32. How fantastic is it that this movie honors him, and is so well made. Don't believe the negative reactions ("boring", "slow", "routine", etc), but the film is quiet and intelligent - which I found not only understandable but appropriate given the subject matter (hey it's not Iron Man folks). If that's not your thing, though, you should probably look elsewhere.
Antonius Block
Super Reviewer
Infinitely disappointing. How can such a fine cast give such an uninspiring performance? Turns out all it takes is a slow and unmoored script. What should have been a five-star film shot on location seems at times like a made-for-TV movie. "The Man Who Knew Infinity" is a nice picture to look at, but it becomes tedious and confusing almost as soon as it starts. Unless you're a mathematician who already knows the story and who can appreciate the high drama of reading proofs on the blackboard, I'd skip it.
Christian C
Super Reviewer
Two talents elevate this script. Jeremy Irons and Dev Patel play off one another. To say that this is Dev Patel's greatest performance since Slumdog Millionaire sounds a bit like damning with faint praise. After all the actor has struggled since that breakthrough in films like The Last Airbender and Chappie. Patel gives the part a sweet determination that honors the man's accomplishments while giving us an appreciation for all the sacrifices he had to make. The Man Who Knew Infinity isn't a great movie. Yet let's consider the fact that it exists to honor the contributions of an unsung hero. That alone makes the biography worthwhile. fastfilmreviews.com
Mark Hobin
Super Reviewer
The Man Who Knew Infinity Quotes
There are no approved quotes yet for this movie.