The Lost City of Z
(2017)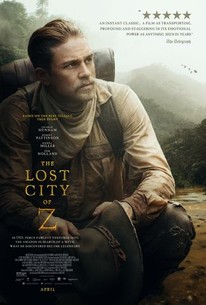 TOMATOMETER
AUDIENCE SCORE
Critic Consensus: The Lost City of Z's stately pace and visual grandeur hearken back to classic exploration epics, and Charlie Hunnam turns in a masterful performance as its complex protagonist.
The Lost City of Z Videos
The Lost City of Z Photos
Movie Info
Based on author David Grann's nonfiction bestseller, "The Lost City of Z" tells the incredible true story of British explorer Percy Fawcett (Charlie Hunnam), who journeys into the Amazon at the dawn of the 20th century and discovers evidence of a previously unknown, advanced civilization that may have once inhabited the region. Despite being ridiculed by the scientific establishment who regard indigenous populations as "savages," the determined Fawcett - supported by his devoted wife (Sienna Miller), son (Tom Holland) and aide-de-camp (Robert Pattinson) - returns time and again to his beloved jungle in an attempt to prove his case, culminating in his mysterious disappearance in 1925. An epically scaled tale of courage and passion, told in writer/director James Gray's classic filmmaking style, "The Lost City of Z" is a stirring tribute to the exploratory spirit and a conflicted adventurer driven to the verge of obsession.
News & Interviews for The Lost City of Z
Critic Reviews for The Lost City of Z
Audience Reviews for The Lost City of Z
A slow moving exploration drama that has little action or adventure but takes its time with the characters, their motivations and the political climate of British Imperialism. That sounds less interesting than it is, the film never gets boring, but one should not expect Indiana Jones-esque discoveries or chases. It's beautifully shot and the acting is top notch as well. You can't blame a film for sticking to the facts, but of course the ending is very disenchanting.
"The Lost City of Z" is absolutely spellbinding and beautiful. The script, cinematography, acting, costumes, hair, and direction were all excellent. Long after the film ended, I wished I could accompany Hunnam on his quest for this Amazonian Shangri-La.
Christian C
Super Reviewer
½
I become slightly annoyed when watching films like The Lost City of Z, solely because it focusses too much on getting the story right, and leaves the pacing by the wayside. That being said, there is really something special to unravel throughout your viewing of this film. It does feel lengthy, so be ready to invest yourself in a lot of dialogue, but this is a film I'll definitely be recommending in the end. Adventure films have been left in the dust in recent memory, unless you're willing to include the Sci-Fi ones or average movies like Pirates of the Caribbean: Dead Men Tell No Tales. Personally, films like Raiders of the Lost Ark or The Princess Bride just aren't made anymore, but in its own way, The Lost City of Z is a memorable one. Here is why I think it deserves a little more attention than what it's receiving, even though the final film may let some people down. Most adventure films are about having fun and taking audiences on an incredible journey, but The Lost City of Z is a very slow-moving picture that requires your patiences and may even ask you to be forgiving if they never reach their destination by the end of the film. Told throughout a very long period of time, Percival (Charlie Hunnam) is a determined man, who's sole mission is to discover a lost city. After being lost, returning, and going back only to fail once again, this film makes you wonder if they'll ever make it there, or if it even exists. Having to showcase many decades of this man's life, I felt as though the emotional core to this film was easily the strongest aspect. Where The Lost City of Z falters is in its pacing throughout the first two acts. I found myself "checking my watch" throughout the first half of this film, due to the fact that there was nothing particularly engaging. Yes, the jungle sequences are terrifically well-done and the characters are well-drawn enough to enjoy their chemistry on-screen, but the first half just felt very, very slow in my opinion. What this film benefits from is an extreme amount of promise. By the third act of this film when they are about to go on their final excursion, I immediately found myself choking up and invested in this story, but it did feel a little too-little-too-late. On top of this, the conclusion itself is powerful, but I fear that many viewers will be let down. This is a true story, so it's forgiving, but sometimes true stories aren't incredible enough to make an incredible feature film out of. From the commanding performance given by Charlie Hunnam, to the way that Robert Pattinson completely disappears into his character, to the extremely real and believable performance that Tom Holland gives in the third act of this film, these actors held my interest in the events unfolding on-screen, even if I found myself slightly losing interest. This was definitely a story worth telling, but I fear as though it could've been better as something that was very loosely based and turned into an original adventure flick that would've been loved worldwide. Personally, I think this is the best interpretation of this story that could've been done, but the story takes place over the course of so many years that it was losing me at times. It may seem like I'm talking about my gripes more than praising this film, but my overall feelings toward this film are quite the contrary. The Lost City of Z was a very compelling story to see unfold on-screen, the performances are all terrific, and the screenplay was clearly written with care, but it's the pacing that really throws the film off course for me. In the end, I would definitely recommend this film, but to a mature audience, due to the fact that the subject matter is to be taken very seriously and the time period will definitely be a turn-off for most of the younger viewers. It's worth checking out for sure, but I can see many people becoming bored throughout their experience with this film. In my opinion, The Lost City of Z is a very solid movie that's worth watching at least once.
The Lost City of Z Quotes
There are no approved quotes yet for this movie.