The Lords of Salem
(2013)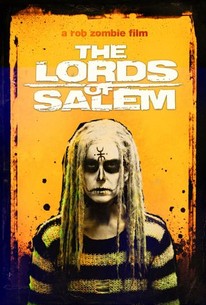 The Lords of Salem Photos
Movie Info
From the singular mind of horror maestro Rob Zombie comes a chilling plunge into a nightmare world where evil runs in the blood. The Lords of Salem tells the tale of Heidi (Sheri Moon Zombie), a radio station DJ living in Salem, Massachusetts, who receives a strange wooden box containing a record, a "gift from the Lords." Heidi listens, and the bizarre sounds within the grooves immediately trigger flashbacks of the town's violent past. Is Heidi going mad, or are the "Lords of Salem" returning for revenge on modern-day Salem? (c) Anchor Bay
News & Interviews for The Lords of Salem
Critic Reviews for The Lords of Salem
Audience Reviews for The Lords of Salem
½
Great atmosphere and imagery. The scene in the kitchen made me jump. Salem is a great spooky setting. Not much seemed sacrified because Heidi had already invited Satanic forces into her life and her radio show. The concept of the Lords and their evil song was cool. The modern day witches were really effectively evil. The backstory was good. It's a bit of a shame all that calculated buildup was dumped at the end and forgotten.
Lafe Fredbjornson
Super Reviewer
[Zero Stars] Rob Zombies' brand of atavistic, 70's-era throwbacks to the horror of yesteryear is an acquired taste. For as refreshingly old-school and grungy as 'The Devil's Rejects' was, his 'Hallowee' remake was a platitudinous, unintentionally funny flatliner. Which brings me to 'The Lords of Salem' which I can safely assume (or hope) is the worst film that Zombie has been associated with. For one thing, the character depth of Heidi as a recovering junkie is superficial at best with truncated scenes of her as a support group to indicate her struggle. Zombie is completely clueless about minute details like how a small-radius radio station works with Heidi and her deejay friends using obnoxious sound effects ad nauseum and playing unsolicited records. The phantasmagorical imagery is putrid and avant-garde (ranging from a midget with flailing intestines and Heidi bucking atop a goat). Although it has been touted as "blazingly original", the trajectory of the story with a vessel for Satan's birth has been tread dozens of times before. The acting from Meg Foster as the coven leader is cringe-inducing and hammy. The pacing is plodding to the point of boredom. From concept to execution, 'The Lords of Salem' is a solemnly self-serious, excruciating piece of drek that ranks as one of the worst movies of the year.
Cory Taylor
Super Reviewer
MisterYoda ?
Super Reviewer
The Lords of Salem Quotes
There are no approved quotes yet for this movie.