The Loneliest Planet
(2012)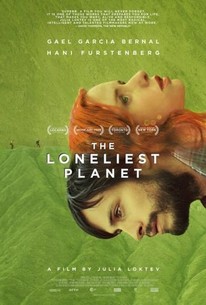 TOMATOMETER
AUDIENCE SCORE
Critic Consensus: The source material that inspired The Loneliest Planet may be brief, but this adaptation of a Tom Bissell short story compensates with studious, finely detailed filmmaking, haunting visuals, and thought-provoking subtext.
The Loneliest Planet Photos
Movie Info
Alex and Nica are young, in love and engaged to be married. The summer before their wedding, they are backpacking in the Caucasus Mountains in Georgia. The couple hire a local guide to lead them on a camping trek, and the three set off into a stunning wilderness, a landscape that is both overwhelmingly open and frighteningly closed. Walking for hours, they trade anecdotes, play games to pass the time of moving through space. And then, a momentary misstep, a gesture that takes only two or three seconds, a gesture that's over almost as soon as it begins. But once it is done, it can't be undone. Once it is done, it threatens to undo everything the couple believed about each other and about themselves. -- (C) IFC
News & Interviews for The Loneliest Planet
Critic Reviews for The Loneliest Planet
Audience Reviews for The Loneliest Planet
½
While it does have something profound to say about relationships and how one moment can make or break them, "The Loneliest Planet" takes so long to get to its rather poignant yet elusive point, that it may seem to some as a bit too meandering. BUT, if you can stay with it, independent writer/director Julia Loktev does deliver with a payoff that is hauntingly thought provoking, with a high potential for inducing provocative discussions. Written (adapted from a short story from Tom Bissell) and exquisitely directed by Loktev using a plethora of expressive long takes, "The Loneliest Plant" stars Gael Garcia Bernal and Hani Furstenberg and centers around a young, adventurous and engaged to be married couple, who travel on a backpacking trip along the Caucasus Mountains, lead by a local Georgian guide. Sounds riveting right? Well, the initial hour does play out like a rather dull, elongated version of a short story, but then something happens that essentially changes the entire relationship dynamic, and more importantly allows the second half of this 2 hour film to slowly blossom into a tragic and quite engaging dissection of the male and female roles in a relationship. At times "The Loneliest Planet" displays thematic similarities to 2012's independent female relationship point of view film "Take this Waltz", but Loktev seems to be able to get her female visual prospective across with slightly more clarity, while still keeping a fascinating air of ambiguousness. The truth is "The Loneliest Planet" is a hard film to review because it is contingent on one scene (really one physical movement) an hour into the picture, that I can't really talk about. But what I can say is that the latter half of the movie (after the big scene) although consists of Bernal and Furstenberg continuing to walk around the Caucasus Mountains (mostly in silence) is quite a moving piece of cinema that does show off Loktev's Malick-esque directorial skills. On the other hand, this film is not for everybody. What will ultimately hold this back for many, will be the (at times) too Independent for its own good feel of the entire picture, as Loktev holds on shots for minutes at a time where nothing seems to be going on, and spends a lot of time filming characters ad-libbing their dialogue. Other issues may come down to the free flowing (slow) pacing of "The Loneliest Planet", which may leave many walking out of this movie questioning: Was Loktev's introspective inquiries really worth the journey? Final Thought: In my opinion this sort of Avant-garde piece about a couple under duress is very much a film geared more towards female audiences. That is to say, the main focus is not Bernal. He is only the vehicle that helps show the nature of the male counterpart. The real star of the show here is Furstenberg, who displays the complex prospective of a female outlook on relationships exceptionally well, and thusly what she goes through should be more fully understood by female audiences. That is not to say that men will not enjoy this film, but for most men, "The Loneliest Planet" may be too hard of a pill to swallow. Plus, if you are currently a male in a relationship, this is one movie that may only serve to plant the seed of an awkward conversation (which in turn, probably is the point). Written by Markus Robinson, Edited by Nicole I. Ashland Follow me on Twitter @moviesmarkus
Markus Robinson
Super Reviewer
It may be about 20-30 minutes too long, but its so earnest in its attempt to dissect this relationship and how its affected by one small but devastating act that I was fascinated from start to finish. It revels in ambiguity, so I can see it frustrating a lot of people but I believe its the film's strongest asset. The mystery isn't forced and I think that it could potentially yield a lot of interesting discussion about the sexual and emotional politics of relationships.
Alec Barniskis
Super Reviewer
½
As beautiful as some of the scenery is, the most remarkable thing surprisingly about "The Loneliest Planet" is sound. For example, even before the movie starts, there is the sound of pounding that is revealed to be Nica(Hani Furstenberg) trying to desperately keep warm while her fiance Alex(Gael Garcia Bernal) tries to work a makeshift shower for her. They have been roughing it for three weeks in Georgia, currently residing in a small town off the beaten track where they interact with the natives(love the improvised game of volleyball), enjoy the local cuisine and negotiate for the services of a local guide, Dato(Bidzina Gujabidze). But what the audio of the movie does not pick up oddly enough is usually the sound of conversation, not only between the lovers as they trek in this microcosm of a relationship where trust is paramount, but also in the way curious people of different cultures exchange information about each other, even if Alex and Nica have drifted far enough away that English is no longer the lingua franca. Out of the drips and drabs of talk that we do get, it can be inferred that Nica, having traveled a great deal already in her young life, is ready to settle down at the age of 30 before hauling her future kids all over the place to see her favorite sights.
The Loneliest Planet Quotes
There are no approved quotes yet for this movie.