The Legend of the 7 Golden Vampires
(2003)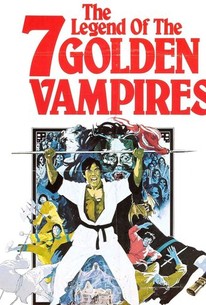 The Legend of the 7 Golden Vampires Photos
Movie Info
In 19th-century China, a group of evil-doers known as the Seven Golden Vampires visit Count Dracula's grave, where they are magically merged into one, super-powered vampire. Now it falls to vampire hunter Van Helsing and four kung fu experts to defeat the creature in this martial arts horror film.
Critic Reviews for The Legend of the 7 Golden Vampires
Audience Reviews for The Legend of the 7 Golden Vampires
First of all this movie is a little long, second there's way too much kung fu fighting, but if you like that, you'll enjoy this movie. I enjoyed seeing Cushing again, and the good background story for the 7 Golden Vampires, which was cool. Overall, though, this movie is just okay. It's not a great vampire or martial arts movie, but it's not bad.
This lovely Hammer Horror blending of the traditional vampire tale with martial arts stars Peter Cushing as Professor Van Helsing. The plot follows Van Helsing, who is drawn into a plot involving a legendary seven golden vampires, the prince of darkness; Dracula himself, the undead and a load of martial artists. Our hero must, along with his son and an escort of kung fu fighters travel to a cursed village somewhere in China to rid it of the vampire curse that holds it. One of the reasons why Hammer horror is so brilliant is that it isn't afraid to make a film that most other film studios would regard as stupid and then make it work. The main reason why Hammer horror does work is that the films, despite showing many macabre images, are always good natured and made with a lot of heart so they're easy to like; and this one is no different. The Eastern style makes for a very different vampire film to what we're used to, and Legend of the 7 Golden Vampires seems keen to capitalise on that as it changes many of the traditional vampire rules to suit the east (for example, the traditional cross to ward off vampires is replaced by the image of Budha). As usual with Hammer, the effects are hokey to say the least, the production values are low and everyone except Peter Cushing leaves a lot to be desired acting-wise...but without these traits, this film wouldn't be Hammer, so these things are not only forgivable, but welcome. Peter Cushing's performance in this movie isn't his best, but fans of his will still relish it. There's something about Cushing's persona that makes him very watchable, and every film with him in it is worth watching, if only for that reason. He also gets involved in some of the martial arts fights, which is nice to see. The fights themselves are very well staged, much better than I was expecting with this being a horror film with kung fu elements, rather than a full blown fight-fest. This is the fifth film I've seen by Hammer director Roy Ward Baker and although it's not the best, it's still a very solid offering from the man who was probably Hammer's finest director. This film is a lot of fun, and I don't doubt that it will delight anyone who sees it, and therefore it comes with the highest recommendations from me.
Cassandra Maples
Super Reviewer
We open to a Chinese man named Kah (Shen Chan as Chan Shen) hiking through the Transylvanian forests in search of Count Draculas (John Forbes-Robertson stepping in for Christopher Lee) Castle. He doesn't take too long to find it and proceeds into Draculas crypt. He appears to be attacked by some bats that for some reason don't have to flap their wings as they just sort of glide along, almost as if their on strings! But then I thought to myself that a classy production like this wouldn't use rubber bats on strings, would it? Dracula rises from his stone coffin complete with bright red lipstick, white face paint and slicked back hair, and ask's who dares disturb him. Kah says in Chinese "I am the high Priest of the 7 Golden Vampires in Szechwan, China. When the Vampires walked my temple was the centre of all power in the area" Kah then goes on to say the Vampires are sleeping and that he would like Dracula to resurrect the 7 Golden Vampires again. Even though Kah speaks in Chinese Dracula understands every word he has said and gives him the cold shoulder and says he doesn't do favors for anyone and then decides to take Kah's form and travel to China, bring the 7 Golden Vampires back, rule the area by himself and help spread vampirism throughout the world. We are then informed we are in 'Chung King 1904'. Professor Van Helsing (Peter Cushing) is giving a lecture at a local university to a group of young Chinese men on the threat of vampirism. He tells them of a legend where in a nearby village called Ping Wei a local man managed to destroy one of the 7 Golden Vampires before the others slit his throat. The students are unimpressed with such tales. Except one, Hsi Ching (David Chiang) who come from the village Van Helsing spoke about. He ask's Van Helsing to go to his village with his brothers, all 6 of them too many to bother listing, and their only sister Mai Kwei (Szu Shih as Shih Szu), hey it's a large family OK?, to help them rid Ping Wei of the 7, well 6 now, Golden Vampires. Van Helsing would like too but claims an expedition to the village would cost a lot of money. Just then, as if by luck Van Helsing's son Leyland (Robin Stewart) and a rich widow on a world tour named Vanessa Buren (Julie Ege) who he picked up in a nightclub, turn up. That's the funding problem solved as Vanessa thinks a "Vampire hunt sounds exciting". They all set off for Ping Wei to destroy the Vampire menace, their zombie slaves and rid the land of vampirism. Directed by Roy Ward Baker this was Hammers ninth and final film to feature Dracula, and it was made after The Satanic Rites of Dracula (1973). The script by Don Houghton tries hard to mix both vampirism and martial arts. It comes across as a little silly at time but is none the less pretty good fun, and at least it's never dull or boring. The fights are ok and contain some decent violence and gore. There's lots of zombies which look good, the 7 Golden Vampires look silly though, they look like zombies with fangs and a golden mask that cover the top half of the faces. The flying bats look awful as do the the women who 'struggle' to free them selves from being tied down to sacrificial altars they just move their heads a little and bend their legs a bit, come on girls put some effort into it your about to have all your blood drained by vampires for gods sake! Acting is OK, obviously Cushing couldn't join in the Kung-Fu fighting so just sort of stands there and seems a little underused throughout the second half of the film. Technically the film is quite strong with nice music, photography, sets and editing. And why does everyone in this film speak perfect English? Even though just about everyone is supposed to be Chinese. Sit back, don't ask too many questions and enjoy as there are a lot worse ways to spend 90 odd minutes of your time.
David Ladd
Super Reviewer
The Legend of the 7 Golden Vampires Quotes
There are no approved quotes yet for this movie.