The Legend of Lizzie Borden
(1975)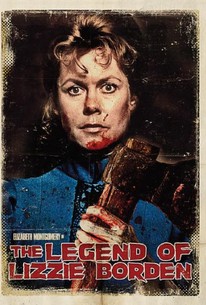 AUDIENCE SCORE
Critic Consensus: No consensus yet.
The Legend of Lizzie Borden Photos
Movie Info
"Lizzie Borden took an axe/And gave her mother forty whacks/When she saw what she had done/She gave her father forty-one". New England spinster Lizzie Borden was acquitted of the charge of murdering her father and stepmother in 1892, but this made-for-TV movie, like most recreations of the murders and subsequent trial, adheres to the popular consensus that Borden was guilty. Elizabeth Montgomery takes a break from playing victims to portray the enigmatic Borden. The trial scenes are lifted directly from the original court records; scripter William Bast's speculation as to what really happened the night the elder Bordens were hacked to death is pure (but credible) conjecture. Accompanied by a "parental guidance suggested" tag, The Legend of Lizzie Borden was first broadcast February 10, 1975.
Critic Reviews for The Legend of Lizzie Borden
There are no critic reviews yet for The Legend of Lizzie Borden. Keep checking Rotten Tomatoes for updates!
Audience Reviews for The Legend of Lizzie Borden
It's a traditional thriller except that it's based on real events. In fact, the movie claims that it's considered to be one of the most infamous and bizarre cases of the 19th century. Just because I'd never heard of it before doesn't change the fact. Putting aside the topic of my (never-ending) ignorance, while it might be considered well executed for a TV movie that released more than 35 years ago, it didn't suit my taste. Almost all the old-fashioned horror elements were present: an actress laughing loudly, behaving weirdly almost all the time, the sound of ticking of clocks, etc. It's kinda Montgomery's transformation to Psycho. Whatever it was, I failed to like it. Since it's "based on a true story", they could have put the creative license to better use. Some of the facts that are twisted don't do any good to the movie. Despite of its gritty subject, they should have added a few light moments. The lack of light moments was another let-down. The dialogues weren't effective either. The rhyme towards the end was exceptionally great, though.
familiar stranger
Super Reviewer
½
Great performance by Elizabeth Montgomery, good period feeling, far superior to most made for TV movies. Shows what the medium is capable of.
½
A courtroom drama, a murder mystery, and a horror film. Mr. and Mrs. Borden are found hacked up by axe one morning in historical smalltown Fall River, Massachusetts. Everyone is suspicious of the daughter, Lizzie Borden, played chillingly and charmingly by Elizabeth Montgomery. A powerful and haunting film, as we flash back to the events leading up to the murder during the trial scenes. Part of the effectiveness is the spooky music.
Lafe Fredbjornson
Super Reviewer
The Legend of Lizzie Borden Quotes
There are no approved quotes yet for this movie.