The Legend of Hercules
(2014)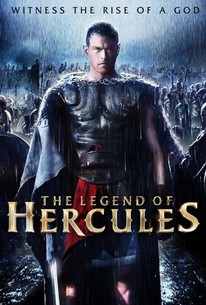 TOMATOMETER
AUDIENCE SCORE
Critic Consensus: Cheap-looking, poorly acted, and dull, The Legend of Hercules is neither fun enough to qualify as an action movie nor absorbing enough to work on a dramatic level.
The Legend of Hercules Photos
Movie Info
In the epic origin story THE LEGEND OF HERCULES, Kellan Lutz stars as the mythical Greek hero - the son of Zeus, a half-god, half-man blessed with extraordinary strength. Betrayed by his stepfather, the King, and exiled and sold into slavery because of a forbidden love, Hercules must use his formidable powers to fight his way back to his rightful kingdom. Through harrowing battles and gladiator-arena death matches, Hercules embarks on a legendary odyssey to overthrow the King and restore peace to the land. (c) Summit
News & Interviews for The Legend of Hercules
Critic Reviews for The Legend of Hercules
Audience Reviews for The Legend of Hercules
½
It's as if director Renny Harlin watched Gladiator and said, "Yeah, I can do that, but much worse." The plot is almost exactly a ripoff of the 2000-Best Picture winner, having the godly Hercules besmirched and thrown into the arena, where he must build a name for himself in gladiatorial combat and work the support of the crowd in order to gain his vengeance against a jealous tyrant with daddy issues. If that wasn't enough, the visual aesthetic is very much a CGI-heavy melange of 300, with the super stylized slow-mo action standing in the way for plot. A sword-and-sandals epic should not be on the verge of putting you to sleep, but Hercules goes there. Kellan Lutz (Twilight) might have the right build to fill out the character but he's too limited as an actor to do much beyond the fight choreography. The only reason to see this movie is if you're trapped on an airplane and it happens to be on. Who would have thought that the flawed Brett Ratner-directed Hercules movie would look even better? Nate's Grade: D
Nate Zoebl
Super Reviewer
The story of Hercules has graced us many times in numerous incarnations. Renny Harlin's latest turkey, The Legend of Hercules, is the myth told in the most lifeless and uninteresting way possible. Sets look cheap. Costumes look put together from discount surplus attire. Actors don't act; they yell; all the time; every line - it's like high school kids performing bad Shakespeare without microphones. Granted, their performances are clearly the fault of the director. Everything in this movie is a cliché, from the opening "prophecy" to the final siege in the middle of a thunderstorm set to booming Hans Zimmer-esque music. I don't understand why anyone bothered trying to make this movie and I can't fathom anyone being remotely interested in seeing it.
Edward Boxler
Super Reviewer
Uninspired, wholly unoriginal, and it strays so far from the source material of Hercules that is may just be called "300: Hercules the New Recruit," because right down to it's core, this film is a rip-off of "300" in every way imaginable, right down to it's slow motion nonsense in the middle of every single action sequence. Kelllan Lutz is laughable at times as the title character and the supporting cast do not seem to know what film they are in. This has some of the worst CGI I've seen in years, as far as the standard Hollywood blockbusters go nowadays, the script is sloppily written, and it is not directed very well either, which is a shame due to who was at the helm. Renny Harlin is not the only one responsible here, but he should have chosen a different film to work on. "The Legend of Hercules" is everything you would expect it to be and less. If you can accept how bad the effects are, you can have some fun with the action and dumb dialogue, but that's about it. This is a truly bad film.
The Legend of Hercules Quotes
There are no approved quotes yet for this movie.