The Legend of Hell's Gate
(2012)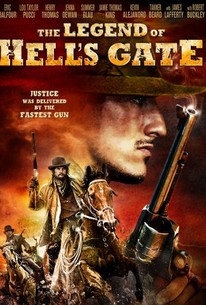 AUDIENCE SCORE
Critic Consensus: No consensus yet.
The Legend of Hell's Gate Photos
Movie Info
In 1870s Texas, a ruthless bounty hunter and an Irish desperado flee the law with a young criminal claiming to possess a treasure more valuable than gold. Crossing paths with some of the West's most notorious figures, the three outlaws fight for their lives in the pursuit of fame and fortune. Fueled by an ensemble cast and inspired by actual events, The Legend of Hell's Gate blends legend and history into a Western spectacle that recounts a treacherous existence in post Civil War Texas. -- (C) Phase 4
Audience Reviews for The Legend of Hell's Gate
Tanner Beard, the director, started this as an ambitious project but somehow managed to dilute this take on the allegedly true story so much, that became insignificant. There is a good Western hidden somewhere but not many people would bother because there is so many other useless things going around which grab your attention and waste time going nowhere. Beard, the writer, spent more time developing characters which are disappearing around the story than building a story itself. Beard, the actor (stars as Irish never-do-well James McKinnon) never shows why would we accept him and follow him - while the bunch of other classic spaghetti Western-style group of antiheroes, men who normally would have nothing to do with one another but who are thrust together by circumstances beyond their control - are all doing their own thing. I could not fault the acting under circumstances, especially in the last part when finally picks up the pace, but by then it's too late. Uninspiring and without strength and conviction!
½
Tanner Beard's The Legend of Hell's Gate: An American Conspiracy tries to achieve greatness, but never does.
100 minutes seems like a suitable run time for a western, and while it does boast numerous characters, the story never seems to have any consistent flow from beginning to end. There is too much time spent trying to setup characters that don't need it, which leaves little time to focus on an exciting and thrilling story. Aside from some interesting sets and scenery, this film really does lack the much needed excitement.
There are decent performances all around; unfortunately, none of the characters can be considered likable in any way, shape, or form. Tanner Beard casts himself as a major character, and as an Irish-man he does stick out in a western setting.
The Legend of Hell's Gate: An American Conspiracy ends well with its closing credits. That pretty much sums it up.
The Legend of Hell's Gate Quotes
There are no approved quotes yet for this movie.