The Learning Curve
(2002)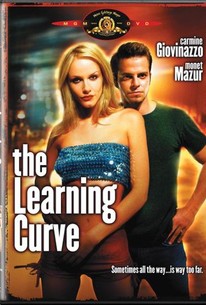 The Learning Curve Photos
Movie Info
A couple drifts into crime for a few laughs and some fast money, but before long they discover they've gotten in too deep. Georgia (Money Mazur) is a beautiful but unstable woman who claims to be under eighteen and still living at home, though it's hard to say if she's telling the truth. One night, while drinking with friends, she meets Paul (Carmine Giovinazzo), a janitor who intervenes when a drunk propositioning Georgia doesn't seem willing to take no for an answer. Paul and Georgia are both looking for kicks, but not in the usual manner; for fun and profit, Georgia teases men until they make their move, then turns her emotions 180 degrees and screams for help. Paul then comes into the picture, pretending to be the Knight In Shining Armor, and roughs the men up; he takes their wallets in the process, and Paul and Georgia split the money. This small-time con works well enough but gets old before long, and the pair plans a more elaborate scam involving an auto accident. Their target turns out to be a music business executive, Marshal (Vincent Ventresca), who sees through them almost immediately. He can tell, however, that they have a way with a con, and he hires them to work for his record label. Before long, drugs and booze are taking their toll on Paul, while Georgia balks at a blackmail scheme involving city officials who have blocked a building project Marshal is backing. The Learning Curve was the first feature from Eric Schwab, who worked as a second unit director on several films for Brian DePalma.
Critic Reviews for The Learning Curve
Audience Reviews for The Learning Curve
½
Saw it on the free channel & nothing else was on so I decided to check it out.Its worth watching at least once but probably not more even though it was better then I thought it would be
Brody Manson
Super Reviewer
The Learning Curve Quotes
There are no approved quotes yet for this movie.