The Late Bloomer
(2016)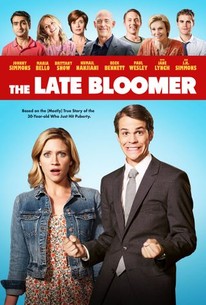 Movie Info
Dr. Pete Newmans (Johnny Simmons) is a successful sex therapist whose practice is devoted to helping people re-channel their sexual impulses. When his doctors discover a pituitary tumor that has delayed his onset of puberty for 15 years, Pete undergoes what would normally be years of puberty in a matter of weeks. Mood swings, voice changes, acne and, of course, near uncontrollable erections greet Pete as he tries to navigate life as both a horny 15 year-old kid and a 30 year-old desperate to be a complete man and get the girl of his dreams. Based on the book "The Late Bloomer: A Memoir of My Body" by Ken Baker.
News & Interviews for The Late Bloomer
Critic Reviews for The Late Bloomer
Audience Reviews for The Late Bloomer
½
This is a movie with a fairly interesting concept all things considering. Which, for what essentially boils down to a sex comedy, is really surprising. This is a genre that doesn't see much innovation in its concepts or execution. Though, if I'm being completely honest, there's nothing unique about the execution in this film. It's just a movie about a 30-year-old man finally hitting puberty and all the changes he goes through, from the physical, to the acne, to the mood swings, testosterone, voice cracking, etc, etc. It tries to be as broad as humanly possible without really exploring what it might actually be like to be someone who's going through this. And there's nothing wrong with that, of course, I mean the jokes practically write themselves. Whether the jokes that write themselves are really all that good is for you to decide. But I feel that there's a more interesting story to tell here with this man who has never felt sexually compelled to go all the way with someone and why the reasons for that are. And, honestly, how do you even show all of the shit he goes through without adding some comedic context to it. With all of that said, yes, the movie isn't what I would call good in the slightest. But I don't think it's as bad as it probably should have been. Admittedly speaking, with this concept, which is low-brow, you get pretty much the type of humor one would expect. And the funniest stuff in the film isn't even related at all to Peter going through puberty. The best scenes in the movie are the scenes with Peter's friends, played by Kumail Nanjiani and Beck Bennett. Those really are the funniest scenes in the entire film, their interactions with each other. I guess you could say that, in a way, this is a bro movie. And that wouldn't be a wrong to say, but it's not so much of a bro movie as one would think. And what I mean by that is bro in the Adam Sandler way, where it's all about offending as many people as possible. Though I'm not about to say that there isn't some sexism here, because there is. I don't know, the level of it has to be determined by women. I'm a man, so I can't say what's gonna be sexist to a woman or not. I think, in part, this movie is stuck in the past with its approach to this concept. But that's what they wanted to go for, so that's on them. The acting is pretty solid, really, you have a cast of really talented comedic actors. Do they make the best use of those people? Like Maria Bello, JK Simmons and Jane Lynch and Brittany Snow. No, not really. They're more of a complementary side dish and not part of the full course meal, but they're good. Johnny Simmons and JK Simmons have a really good scene near the end. It's a bit dramatic, but both actors do a real good job handling it. So, yea, the movie doesn't really try to do too much that's outside of the box. It plays it safe, for sure. As far as a goofy comedy you can sit and watch without thinking too much, then this works just fine. It certainly won't make you any dumber than you likely already are at this point. Sorry, that was a bad joke. Good idea bogged down by broad execution, but with a good interplay between its cast make this just an average film at best.
Jesse Ortega
Super Reviewer
The Late Bloomer Quotes
There are no approved quotes yet for this movie.