The Last Will And Testament Of Rosalind Leigh
(2012)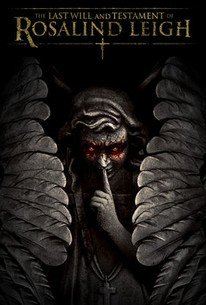 AUDIENCE SCORE
Critic Consensus: No consensus yet.
The Last Will And Testament Of Rosalind Leigh Photos
Movie Info
Upon inheriting his late mother's house, inquisitive antiques collector Leon discovers that the entire home is a shrine to an enigmatic cult. Meanwhile, a series of strange occurrences leave Leon convinced that his mother is attempting to reach out to him from beyond the grave. ~ Jason Buchanan, Rovi
Critic Reviews for The Last Will And Testament Of Rosalind Leigh
There are no critic reviews yet for The Last Will And Testament Of Rosalind Leigh. Keep checking Rotten Tomatoes for updates!
Audience Reviews for The Last Will And Testament Of Rosalind Leigh
This was a pretty good horror movie I thought. It is one that does rely far more on its atmosphere to create a sense of horror rather than jump scares, and I thought it was done effectively. The movie does really take its time before the horror starts, close to about halfway through the movie before the horror really starts to pick up. But I do think the movie has a taut atmosphere throughout, so it does keep you on your toes even if they're not constantly trying to 'scare' you. I did think the concept was interesting because the movie sees Rosalind Leigh, a religious fanatic voiced by Vanessa Redgrave, reading her last testament and throughout the movie you think that she's talking to her son, Leon, and talking about their relationship. But there comes a point in the movie where you're doubtful about whether she's talking about her relationship with Leon or her relationship with god. At the end, with some of the things she says, you can figure out that she's talking about Leon, but MANY of the things she said could also apply to her relationship with god and I thought that added a little twist to the story. If you watch the film thinking that Rosalind is talking about her relationship with god, it completely changes how you view the film and it becomes a movie about someone, in this case Leon, who has some very severe mental issues. I think that adds a little depth to the movie that wouldn't have been there otherwise. I don't think the movie's perfect, it's just good. It's good from beginning to end, but I think they shouldn't have waited so long in order to get to the 'scares'. With that said, I still think the atmospheric approach to the movie pays off vastly in the end. I think this is the type of film that will surprise a lot of people who give it a shot. This is a good movie, not worth going out of your way to see, but a damn solid horror flick.
Jesse Ortega
Super Reviewer
This film is a surprise in terms of originality and sheer chills. The Last Will and Testament of Rosalind Leigh is an accomplished horror film that will surely appeal to genre fans that are looking for something quite different in terms of horror. This is an effective film that doesn't rely on cheap scares to build its terror. Rather it relies on atmosphere, a brooding sense of melancholic darkness, which adds a certain element of the supernatural to the film, which makes this a refreshing ghost tale. The acting here is quite good and the plot is interesting and original. Films like this are needed in the genre because they rely on atmosphere and effective storytelling to let the terror unfold. Is this, a bone chilling horror film that will keep you awake, no. This is just a well crafted ghost tale with a few good chills here and there, but the real horror lies in its plot, where a man, is left alone, and being alone is what is really terrifying. The film is quite good, but leaves room for improvement as well. This is nonetheless a worthy viewing and is a far better film than most recent horror tales that have been released. Ghost stories are often hard to film, but if you have an original concept, which is the case of this film, then you have something unique. The plot kept me involved in the film, and I felt it was one of the select few horror films that really stood out due to the fact that it used atmosphere to create terror, while most horror films of today use cheap gimmicks to try and create tension. This is a well crafted and directed debut and it is sure to find a bigger audience and become a standout cult classic.
The Last Will And Testament Of Rosalind Leigh Quotes
There are no approved quotes yet for this movie.