The Last September
(2000)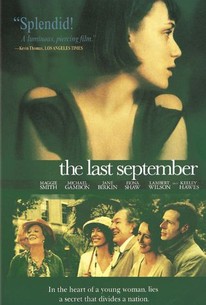 Movie Info
The portrait of an end of an era--British rule in Ireland--and the demise of a class and way of life which had survived for centuries. A depiction of a young woman's coming of age in a brutalized time and place, the story is set in 1920 in County Cork, southern Ireland at the country home of Sir Richard Naylor and his wife, Lady Myra. The Naylors belong to the class of Anglo-Irish aristocracy known as the Ascendancy, whose way of life--moneyed, graceful, essentially feudal--is fast coming to a close. Behind the facade of set-piece dinners, tennis parties and army camp dances, all know that the end is approaching. When Sir Richard's niece, Lois, who is being courted by a captain in the British army, is lured by a menacingly playful and violent young man hiding on the Danielstown estate, class tensions arise and a fierce struggle for personal freedom ensues.
Critic Reviews for The Last September
Audience Reviews for The Last September
Just moody and a bit messy. It could have been interesting and some of the actors made it worth checking out but it was pretty badly executed.
Sunil Jawahir
Super Reviewer
Such a good cast, such a dull movie!!
½
[font=Century Gothic]"The Last September" takes place in 1920 in Ireland, where Lois(Keeley Hawes) is coming of age as a member of the ruling Anglo-Irish ruling class while Ireland is gaining its independence. This is not good news as far as her family is concerned, considering they will probably have to soon vacate the premises but they are acting as if nothing is the matter. In fact, they invite their free-spirited relation, Marda(Fiona Shaw), for the weekend.[/font] [font=Century Gothic][/font] [font=Century Gothic]"The Last September" has little plot and concerns itself more with place and time setting the mood but the movie is too similar to "Rules of the Game" and "May Fools" for it to be successful. It wastes a very good cast which includes Maggie Smith, Michael Gambon and Jane Birkin.[/font] [font=Century Gothic][/font] [font=Century Gothic]At the heart of the movie are issues of identity and class. The ruling class identifies themselves as Irish even though the native population disagrees and thinks of them as English.[/font]
The Last September Quotes
There are no approved quotes yet for this movie.