The Last Kiss (El Último Beso)
(2002)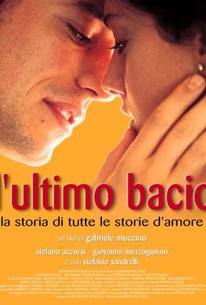 The Last Kiss (El Último Beso) Photos
Movie Info
Stefano Accorsi protagoniza esta comedia dramática, dirigida por Gabriele Muccino, sobre un joven cuya vida entra en crisis cuando su novia queda embarazada y tiene que enfrentar las responsabilidades que ello implica, al tiempo que sus amigos luchan por asumir las propias. Giovanna Mezzogiorno, Stefania Sandrelli, Marco Cocci, Pierfrancesco Favino. Dirigida por Gabriele Muccino.
Critic Reviews for The Last Kiss (El Último Beso)
Audience Reviews for The Last Kiss (El Último Beso)
for sexuality, language, drug use. L'Ultimo Bacio was a movie, in which some men will recognize themselves in. The movie was based on what most men feel as they are approaching, the age of 30, where its expected to grow up, marry or start a family. These are important decisions and sometimes they are not ready in making them yet. So they start doing the most funny things, which sometimes don't have happy ending at all. I highly recommend this movie. Love it.
Daisy Maduro
Super Reviewer
this is a great movie! the american version doesn't even compare since it was homogeonized and removed the pain and true comedy. strong performances by all actors. i found the ending truly funny.
Stefanie C
Super Reviewer
The Last Kiss (El Último Beso) Quotes
There are no approved quotes yet for this movie.