The Lady
(2012)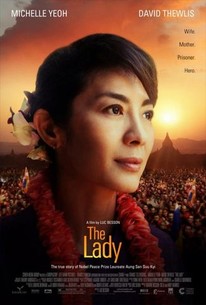 TOMATOMETER
AUDIENCE SCORE
Critic Consensus: Even as The Lady focuses on Aung San Suu Kyi's romantic life parallel to her political ascendancy, Luc Besson's saccharine direction is too concerned with deifying the Nobel Prize-winner for her humanity to actually shine through.
Movie Info
The Lady is the extraordinary story of Aung San Suu Kyi and her husband, Michael Aris. It is also the epic story of the peaceful quest of the woman who is at the core of Burma's democracy movement. Despite distance, long separations, and a dangerously hostile regime, their love endures until the very end. A story of devotion and human understanding set against a backdrop of political turmoil that continues today. The Lady was written over a period of three years by Rebecca Frayn. Interviews with key figures in Aung San Suu Kyi's entourage enabled her to reconstruct for the first time the true story of Burma's national heroine. -- (C) Cohen Media Group
News & Interviews for The Lady
Critic Reviews for The Lady
Audience Reviews for The Lady
Although directed by hotshot cowboy Luc Besson this biographic about one of the leaders that took Burma to democracy nonetheless feels like many other bio-pics wherein the go-to points are gone to, and without a great deal of flair. If it's a history lesson one seeks, you could do worst, and immersion in the life another culture is always a good thing. The leads do admirably (always a fan of Yeoh, which is why I showed up, and she could use helming other work) but, as I said, the story only follows an overview of the lives involved, like a great many other biographies.
Kevin M. Williams
Super Reviewer
½
Besson turns this real story into a conventional, underwhelming movie and stretches it forever, but still Michelle Yeoh does her best to lend an aura of elegance and honor to a character that utters cheap soundbites all the time to justify her poorly developed actions.
Carlos Magalhães
Super Reviewer
On the one hand, "The Lady" is a heartfelt biopic about Burmese democracy activist and Nobel Prize Laureate Aung San Suu Kyi(Michelle Yeoh). As such, the movie is framed by three deaths: It is 1947, and her father, Aung San(Phoe Zaw), one of the founding fathers of Burma, is gunned down in cold blood by army soldiers. It is 1998 and her husband, Michael Aris(David Thewlis), an Oxford professor, has just been diagnosed with terminal prostate cancer. He now has between five months and five years to live which as pointed out, should be enough time to settle his affairs. Except that she is stuck in Burma and if she leaves, she will not be able to return. It is 1988 and her mother(Marian Yu) has just had a serious stroke in Burma. That causes Aung San Suu Kyi to return to her native country from England, with her family not far behind her, just as democracy protests are kicking into high gear. On the other hand, while I respect the well-intentioned thoughts of "The Lady," crafting it as a romance and giving equal time to her husband do it little favor, making Aung San Suu Kyi almost a supporting player in her own story.(Therefore, David Thewlis' excellent performance ironically hurts the movie more than it helps.) Not to paraphrase "Man of Steel" anymore than I absolutely have to, but the far reaching and lasting peaceful movement for democracy in Burma is larger than all of these people. For the record, I don't mean to take anything away from the personal struggles of the dedicated Aung San Suu Kyi when I say that. But if one wanted to really give a sense of her isolation under house arrest, then a one woman show would have definitely been the way to go, assuming one cast the right actress.
The Lady Quotes
There are no approved quotes yet for this movie.