The Kingdom
(2007)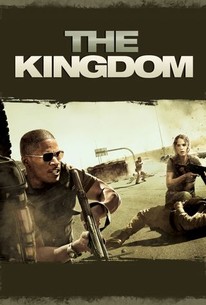 TOMATOMETER
AUDIENCE SCORE
Critic Consensus: While providing several top-notch action scenes, The Kingdom ultimately collapses under the weight of formula and muddled politics.
Movie Info
In the aftermath of a deadly attack on American forces in Riyadh, Saudi Arabia, diplomats are slow to act, but meanwhile, FBI special agent Ronald Fleury (Jamie Foxx) assembles a secret team of U.S. counter-terrorism investigators to enter the city and find the criminal behind what has quickly become an international incident. The crew, however, finds their attempt to capture the perpetrators stalled by bureaucracy and their presence unwelcome. Desperate to gain the trust they need to accomplish their mission in just five days, the team enlists the aid of a Saudi Arabian police officer (Ashraf Barhoum), but as the agents infiltrate the dark and complex world of the Saudi crime scene, they find that the perpetrator's next target may be them. Directed by Peter Berg, The Kingdom also stars Jennifer Garner, Chris Cooper, and Jason Bateman. ~ Cammila Collar, Rovi
News & Interviews for The Kingdom
Critic Reviews for The Kingdom
Audience Reviews for The Kingdom
½
One of my favourite movies. Maybe not a favourite of critics from the first time of seeing this movie and now to the 100th time I still enjoy and engage with this high octane movie that is action packed from start to finish!
Film Crazy
Super Reviewer
Following a deadly attack on American forces in Riyadh, Saudia Arabia, a group of elite FBI forces are dispatched to investigate the case, and take care of the perpetrators along with help from their Saudi counterparts. Due to bureaucratic red tape and a delicate political situation, the team have only a few days to accomplish their mission. To add to the tension, the Americans aren't exactly welcome, they had to manipulate their way into the case, and they have to operate in a strange environment with customs and a culture pretty different from their own. This is a pretty ambitious film. It tries to be a heavy political drama, investigative/procedural thriller, and a slam bang action film all in one. Somehow it manages to be all of these. It starts out as trying to be like Syriana then turns into a thrilling actioner, but I was okay with this. The film is decently paced, adds a bit of depth and proves to be quite suspenseful, thrilling, and entertaining. I think what also helps is that the film isn't overtly one sided in its politics, and avoids being a propaganda piece. And, while Al-Qaeda are the villains, the film manages to be fairly sensible in its portrayal of Arabs, featuring some sensible and fairly realistic characters. We get an all star cast here, with the main team being played by Jaime Foxx, Chris Cooper, Jennifer Garner, and Jason Bateman. They all seem to have decent chemistry with one another, and pull off some fine performances. Filling out supporting roles we get the likes of Jeremy Piven, Kyle Chandler, Danny Huston, and Richard Jenkins. These people likewise do a decent job, though the main focus is on the main FBI team as well as their Arab counterparts. I'm not familiar with any of the Arab performers, but they're also pretty good. The film really changes pace when it turns into a series of spectacle driven action set pieces, but I thought it was cool. The freeway scene is well done, quite suspenseful, and pretty neat since it's a rare chance to see a Hollywood style car chase/crash through Riyadh. The apartment shootout is also pretty gripping. All in all, this is an interesting, fun, and mildly brainy action movie that I think is definitely worth your time.
Chris Weber
Super Reviewer
½
An empty movie with a message that delivers with nothing backing it up except for one shocking scene. However, the action scenes in this movie are top-notch.
The Kingdom Quotes
There are no approved quotes yet for this movie.