The Killing of John Lennon
(2006)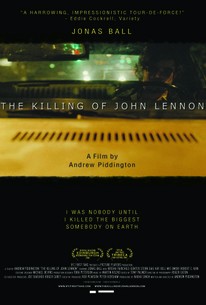 TOMATOMETER
AUDIENCE SCORE
Critic Consensus: Despite a committed performance by newcomer Jonas Ball, The Killing of John Lennon is ultimately a flimsy character study.
The Killing of John Lennon Photos
Movie Info
What sort of man kills one of the most beloved musicians in the world, and what prompts him to pull the trigger? Filmmaker Andrew Piddington explores these questions in this fact-based drama which examines several weeks in the life of Mark David Chapman, the man who murdered John Lennon. Chapman (played by Jonas Ball) is a self-obsessed young man who has an emotionally distant relationship with his parents and a failing marriage to Gloria (Mie Omori). Unable to hold down a job, Chapman spends a lot of time at the public library, where he rereads J.D. Salinger's The Catcher in the Rye and browses though a photo book on John Lennon, and the two begin to fuse in his imagination, as he links Holden Caulfield's grousing about "phonies" with the fame and wealth of one-time activist Lennon. Chapman hops a flight to New York City and visits the sights Caulfield talked about in the novel when not busy standing vigil outside the Dakota, the luxury apartment building Lennon calls home, with a gun in his possession. The first time Chapman crosses paths with Lennon as he's leaving the Dakota, he asks the former Beatle to sign a copy of Double Fantasy, Lennon's new album; several hours later, Lennon returns home and Chapman approaches him with a very different intent. The Killing of John Lennon was primarily filmed in the locations where the real-life events took place, and all of Chapman's dialogue in the film was taken from his diaries or interviews he's given since his arrest and imprisonment. ~ Mark Deming, Rovi
News & Interviews for The Killing of John Lennon
Critic Reviews for The Killing of John Lennon
Audience Reviews for The Killing of John Lennon
½
The assassination of legendary musician John Lennon was one of the most shocking moments in the history of music. The Killing of John Lennon is a disturbing character study about Lennon's killer, Mark David Chapman. This is the type of film that is no everyone due to its subject. Nonetheless, it's a well directed affair that is very well acted and has a tense atmosphere from start to finish. You really get a sense of how disturbed Chapman was, and actor Jonas Ball is very good in the part. The story is well thought out, and it grabs your attention from start to finish. I liked the film, and I thought that it was a very good drama that recounted a terrible tragedy. Lennon's death was tragic, and this film shows everything that leads right up to his death at the hand of Chapman. Brilliantly crafted, The Killing of John Lennon is a unique film experience because it really goes deep into the mind of the killer that was Chapman. As far as character studies go, this is among the finest that I have seen. The film manages to be disturbing, depressing and ultimately sad due to the fact that it revisits that fateful night of December 8th, 1980. Director Andrew Piddington delivers a standout drama, one that relies on a great cast and true story to make this picture truly standout. Like I said, this isn't a film for everyone, but if you enjoy character studies, then this is worth watching. Yes, it gets into the might of a depraved individual, but in doing so, you are mesmerized by the film's story. A well made picture, and one that is unforgettable.
This was slightly different than the Jared Leto "Chapter 27." This was much more diverse in the background information. You actually have scenes in Hawaii, it shows both trips to NY and exposes his torn relationships with his mother and his wife.
Sean Gillespie
Super Reviewer
½
I can't believe I just gave 2 hours of my time to further the name of someone who was SO sick he took John Lennon away, one of the most talented songwriters.. He was obviously disturbed and wanted to be famous, much in the way people today want their 15 minutes even if it is at the expense of others lives... I hope NO ONE else watches this and gives that sick man the satisfaction of prolonging his fame, which was achieved in the worst way and forever changed the music world. II won't be discussing the movie, but I will not recommend it either, because I feel then I am giving too much power and fame to a person who do not deserve it. I am ashamed of myself for being sucked in by the title. So, if you loved John Lennon and his music,skip this movie. The last thing a Beatle fan needs to hear about is Mark David Chapman. TRASH ...
Daisy Maduro
Super Reviewer
The Killing of John Lennon Quotes
There are no approved quotes yet for this movie.