The Killing of a Sacred Deer
(2017)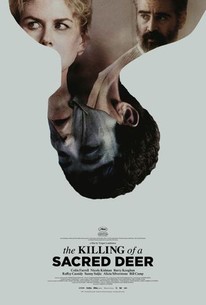 TOMATOMETER
AUDIENCE SCORE
Critic Consensus: The Killing of a Sacred Deer continues director Yorgos Lanthimos' stubbornly idiosyncratic streak -- and demonstrates again that his is a talent not to be ignored.
The Killing of a Sacred Deer Videos
The Killing of a Sacred Deer Photos
Movie Info
Dr. Steven Murphy (Colin Farrell) is a renowned cardiovascular surgeon presiding over a spotless household with his ophthalmologist wife Anna (Nicole Kidman) and their two exemplary children, 12-year-old Bob (Sunny Suljic) and 14-year-old Kim (Raffey Cassidy). Lurking at the margins of his idyllic suburban existence is Martin (Barry Keoghan), a fatherless teen who Steven has covertly taken under his wing. As Martin begins insinuating himself into the family's life in ever-more unsettling displays, the full scope of his intent becomes menacingly clear when he confronts Steven with a long-forgotten transgression that will shatter the Murphy family's domestic bliss.
News & Interviews for The Killing of a Sacred Deer
Critic Reviews for The Killing of a Sacred Deer
Audience Reviews for The Killing of a Sacred Deer
When it comes to taste in film, everything is subjective, everyone knows that. Whether a twisted film impresses you on an emotional level due to the uniqueness of it, or a drama doesn't work for you based on the acting, everyone is entitled to their opinion. I felt the need to state that after my viewing of The Killing of a Sacred Deer, because this is a film that will truly make people not see another movie for weeks or just simply turn it off after the very first frame (I'm not exaggerating). On the other hand, this is a very different film from most of the content out there today, so huge fans of cinema will be able to invest themselves in this insane ride of a movie. While I caution to take any of my negatives or positives with a very large grain of salt, here's why I believe The Killing of a Sacred Deer is an impressive movie, even though I found myself infuriated throughout the majority of its duration. Steve (a surgeon at a hospital) has taken young Martin under his wing due to the fact that he has a desire to pursue health care. Very quickly devolving into an evil plot, Steve discovers that his entire family is taken ill. For unknown reasons, he is faced with some very tough decisions that may result in some horrific imagery. Without ruining the movie, that's about all I can say, and while the premise itself seems bizarre and twisted, I can assure you the movie itself is even more so, so do with that information what you will. This film isn't for the faint of heart as I mentioned before, so let's dive into why that may be. From literally watching open heart surgery, to seeing children with bleeding eyes, to see cheating wives and husbands, to even relating to today's sexual abuse scandals in many more ways than one, this is a film that will probably scar some viewers in many more ways than one. With the addition that it's a fairly slow moving film, I can see many viewers complaining about this picture and stirring up controversy. The only reason that no real controversy has been brought up yet is probably that it went under the radar. Not really garnering the attention that it may or may not have deserved, I can sadly say this film probably needs to be found by the hardcore film fans instead of brought into the public eye. In terms of originality, there's no denying that writer/director Yorgos Lanthimos has what it takes to tell some incredible stories. While I haven't gone back to watch his earliest works, his work on The Lobster made it one of my favorite films of 2015. Sadly, I can't say the same praise about The Killing of a Sacred Deer, but I can once again commend him for being original. Nobody makes movies quite like he does so that deserves some recognition. The strange and unique ways that he approaches storytelling fascinates me and that's more than I can say about most filmmakers these days. In the end, I found this film to be incredibly original in terms of storytelling, but the way the film was presented felt a little egotistical to me. That may not be the case for some viewers, but I'm just being honest. With very minimal dialogue and odd camera angles, there's a lot to admire when watching this movie. To hardcore film lovers, I can't recommend checking out this unique piece of cinema enough, but if you're just looking for an average movie to pop on, I can't warn you of the opposite enough. If you placed a few hundred random people into a movie theatre and asked them to invest their time in this film, I can guarantee that at least 50 percent would either walk out or despise their experience, but that's okay because not everyone likes every single piece of art. While I didn't love this film from start to finish, it's a special one for different reasons.
½
What a strange movie with even stranger characters. Quite liked it, despite Colin Farrell, who I can't stand, including here. Luckily I don't think you are meant to like him. The dialogue is quite stilted (intentionally) which makes this feel even weirder. I detested Lobster, so I'm glad I didn't know it was the same director until after seeing this as I don't think I'd have bothered with it.
Nicki Marie
Super Reviewer
½
The film loses a bit of life at the end, but its straight-from-Kubrick cinematography and sound-mixing, as well as its bizarre storytelling, make it a worthwhile, albeit disturbing, experience.
Matthew Samuel Mirliani
Super Reviewer
The Killing of a Sacred Deer Quotes
There are no approved quotes yet for this movie.