The Juggler
(1953)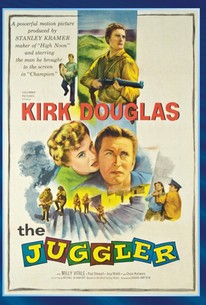 AUDIENCE SCORE
Critic Consensus: No consensus yet.
Movie Info
The trials of a displaced Jewish juggler who survived the German concentration camps and finds himself among other refugees in Israel provide the basis of this provocative drama. During his interment, the juggler lost his entire family. He arrives to an Israeli refugee camp traumatized and confused; there he behaves strangely causing the camp psychiatrist to observe him carefully. His first night in the camp, the disoriented juggler becomes frightened and escapes. An Israeli police officer stops him. When he asks the poor fellow for his papers, the juggler panics and thinking the cop to be a Nazi, knocks him unconscious and heads for Mount Carmel. The next morning some children find him and believing his story that he is an American tourist (he lied because he thought he had killed the policeman), they allow him to join their long journey across Israel to their kibbutz located near the Syrian border. En route, the juggler makes plans to go to Egypt where he believes he has friends who will help him. Meanwhile, the authorities have assigned a detective to trail the juggler. Over the long trek, the juggler forms a strong bond of friendship with the lead boy and teaches the youth to juggle. Just before they reach the border, the youth is terribly wounded after stepping on a land mine. The juggler risks his life taking the injured boy to the hospital. That night, the distraught man is taken in by a kindly Israeli widow and as they await the boy's recovery, love blossoms. But the juggler's conscious grows heavy thinking of the policeman and he tells the widow the awful truth. She, loving him deeply, vows to keep his secret. Not long afterward, while the juggler is performing for children in the widow's kibbutz, the detective finally arrives. The juggler panics and finds a gun with which to defend himself. Fortunately, he is not so frightened as to be unable to hear what the detective has to say, and in listening realizes that he is not alone in Israel and that many, including the investigator, have suffered similar traumas. In this way the juggler finally finds peace and settles into his new homeland.
Critic Reviews for The Juggler
Audience Reviews
There are no featured reviews for The Juggler at this time.
The Juggler Quotes
There are no approved quotes yet for this movie.