The Interrupters
(2011)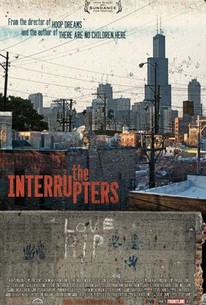 TOMATOMETER
AUDIENCE SCORE
Critic Consensus: Impeccably crafted and edited, The Interrupters is a tough and honest documentary about street violence that truly has the power to inspire change.
Movie Info
The Interrupters tells the moving and surprising stories of three Violence Interrupters who try to protect their Chicago communities from the violence they once employed. From acclaimed director Steve James and bestselling author Alex Kotlowitz, this film is an unusually intimate journey into the stubborn persistence of violence in our cities. Shot over the course of a year out of Kartemquin Films, The Interrupters captures a period in Chicago when it became a national symbol for the violence in our cities. During that period, the city was besieged by high-profile incidents, most notably the brutal beating of Derrion Albert, a Chicago High School student, whose death was caught on videotape. The film's main subjects work for an innovative organization, CeaseFire, which believes that the spread of violence mimics the spread of infectious diseases, and so the treatment should be similar: go after the most infected, and stop the infection at its source. --(C) Official Site
News & Interviews for The Interrupters
Critic Reviews for The Interrupters
Audience Reviews for The Interrupters
Even with the precarious message of hope that the heartrending documentary "The Interrupters" delivers, from watching the news it is painfully clear that violence is still a huge problem plaguing the youth of Chicago since the release of this potent film. Take away those news cameras and wait for the police presence to retreat(who in the documentary are best viewed as outsiders by people in the neighborhood), life goes on and people die which is where the interrupters of Cease Fire Illinois come in, as we get a streel level view over the period of a year in Chicago. They are all former convicts and reformed gangbangers who speak from experience in their role as mediator, counselor, mentor and referee, as an added form of penance, with otherwise their lives being back on track. The focus in the documentary is on Eddie Bocanegra, Ameena Matthews and Cobe Williams who ironically lives out in the country. Basically, aside from directly intervening in violent acts(one scene involves a fight outside of a Cease Fire office with people too aggravated to notice they are being filmed), they seek to stop violence from happening before it has a chance to escalate and most admirably to change the way people think, starting with speaking to students who often feel they do not have a future with Bocanegra going one step further by sharing his artwork with them.
A powerful look at the epidemic of violence in Chicago. Director Steve James is right on the front lines of a war that Americans do their best to ignore. There are no gimmicks to be found here. Just a raw look at those doing their best to make a difference in a city beset by bedlam.
½
A deeply depressing, saddening documentary concerning the violence on the streets of Chicago, and how a group of former gang-members give their best efforts to destroy the "disease" that infects the culture they were once apart of. Steve James, no stranger to creating relentlessly nihilistic backdrops that his characters do not realize they can not get out of (seen also in the devastating "Hoop Dreams"), paints a vivid, somber portrait here. It is definitely difficult not to be in awe in this group of individuals trying to stop the chaos, as the genuine concern and sympathy to stop others from going down the same road they did is shown in outstanding detail. Quite simply, this is one of the better documentaries put out in quite some time, matching up against 2010's "Exit at the Gift Shop". It is a very tough watch though, as life on the street is not fun to see and the senseless, arrogant, misinformed young people that throw their lives away for what they confuse to be for a good cause (loyalty, vengeance, etc...) is downright sickening. But it is a story that needs to be seen, heard, and talked about, and James impeccably crafts this - it will not leave you quickly.
Dan Schultz
Super Reviewer
The Interrupters Quotes
There are no approved quotes yet for this movie.