The Intern
(2015)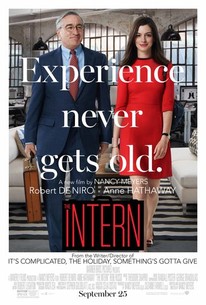 TOMATOMETER
AUDIENCE SCORE
Critic Consensus: The Intern doesn't do enough with its timely premise, but benefits from the unorthodox chemistry of its talented leads.
Movie Info
A retired successful business owner and widower lands an internship at a fashion website run by a young, career-driven woman. ~ Jason Buchanan, Rovi
News & Interviews for The Intern
Critic Reviews for The Intern
Audience Reviews for The Intern
Pretty underwhelming. It was okay, but at two hours, wears it's welcome out and has an extremely abrupt ending. I hated the husband twist and I didn't think either of them were convincing as parents to a child that old. At lest it wasn't completely predictable, but once was enough watching this.
Nicki Marie
Super Reviewer
Who would have thought that Romantic Comedy star Anne Hathaway would ever be acting alongside Gangster Film star Robert De Niro? "The Intern" stars both of them respectively and say what you will about sappy plots like this, "The Intern" is a very, very good film about life in general. Following a widower as he tries to keep himself busy on a daily basis, not matter what it is, Ben (De Niro) is hired as a senior personal-intern to Jules (Hathaway) at an online fashion website. Fitting right in as he had a very long career in business, they form an offbeat friendship that nobody would have expected. This film truly is about friendship, family, and life in general. That is the main focus and it handles it wonderfully. Giving needed life lessons to the new/younger generation, while still caring about it's older audience, this film balances the old and the new in such an interesting way. Having a young family who clearly doesn't see their father's very much, Ben becomes that figure in their lives and changes it drastically, for better or worse. Everything about this film moves at a very solid pace and you feel like it is giving you a slice of life at this moment in their lives. Where this film falters, is the choices made by some of the characters in the final act. It began to feel a little less like life itself and more like a movie when decisions being made felt like plot devices in order to have the happy/sad ending that it went for. It tries very hard to pull on your heart strings and I did not buy into the emotional impact of the final few scenes as the decisions felt very forced, in my opinion at least. I did not believe that this particular conclusion would have happened in reality, and while the film played out as a very realistic picture, that shift in tone was jarring to me. "The Intern" does benefit from an experience writer in this genre, which is why most of the film is so great. Nancy Meyers writes and directs this film, and while her earlier films such as "Father of the Bride, The Parent Trap, or "The Holiday" have all been enjoyable, films later in her career such as "Father of the Bride 2" or "It's Complicated" really hurt her pedestal. Thankfully, this film has put Meyers back in the spotlight and I look forward to see more of her work in the future. With all the right feel good moments, compelling character developing scenes, and the perfect amount of levity between young and old characters, "The Intern" is a far better movie than it should be and I highly recommend it. Very solid entertainment.
½
Pop publications have pondered what makes Anne Hathaway so annoying. She's a perfectly beautiful and talented actress, but there's something about her that just smacks of trying too hard. Why the public prefers cool, calculated nonchalance over effusive ambition to please is an argument (perhaps loaded with gender politics) for another day, but suffice it to say, Anne Hathaway is a little bit annoying in this movie. She tries to be cool and calculated, as per Jules, her character - a self-made internet entrepreneur - but when Jules meets the titular intern, Ben, and lets that bosswoman exterior fall and starts hanging out with her dopey underlings, Hathaway (not the character) tries to be "one of the boys" and the performance fails. Her buzzed rant lamenting the manboys' sloppy workplace attire rings false, trite, whiney, and patriarchal. That may also be the script's fault for creating a flat gentleman hero of yore to act as Jules's foil and to be put on a pedestal as the classic man all men should strive to be. For a movie about a woman in a man's world, written and directed by a woman, it defaults to the crutch of "behind every great woman is a greater-yet-not-flashy-about-it man who allows her to blossom into the powerful, great woman she has the potential to be." It just happens to be cute because Ben is thirty years her senior and is more a father figure than a romantic interest. Regardless, this movie is like the Anne Hathaway conundrum. It's cute but annoying. It has the potential to challenge the incessant questions kick-butt actresses and female CEOs are asked about balancing home and work, but it doesn't. It has the potential to question why go-getting women like Anne Hathaway are thought of as annoying or fake, but it doesn't.
Alice Shen
Super Reviewer
The Intern Quotes
There are no approved quotes yet for this movie.